Return to the Newsletter Archives
---

Dear Partner,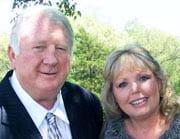 Many of you know that my wife, Debbie was miraculously healed of fibromyalgia and rheumatoid arthritis. Last June we
received an email from River of Life Christian Center in Rusk, Texas they would be holding a healing service. This email was found in our inbox on a Saturday, the service was for the Sunday, the next day. We were 214 miles North of Rusk, Texas and needed to make arrangements asap. So I quickly made reservations for a motel room and off we went.
The praise team led us into the worship of our Lord and the Holy Spirit began to move. As the praise continued the Pastors wife, Lesa Corbell came over to Debbie and began to pray for her. As Lesa prayed Debbie fell out under the power of the Holy Spirit.
Now Debbie still did not know she was healed and had no relief of the pain she has lived with for years. The next day, we started for home when Debbie noticed her pain was leaving her. By Tuesday she had no pain and was doing things around the house that she had not been able to do for years. Wednesday we visited our Doctor and he noticed that she had no pain. He asked what had happened? I explained the healing service we had participated in the previous Sunday. Suddenly the Doctor stood up raised his arms and said, "Praise God Debbie you are healed!"
Since this wonderful event we have had Pastor Robert and Lesa Corbell and their Praise Team come to Gainesville, Texas to hold healing services. We reserved the nostalgic downtown State Theater for two nights in September on the 16 & 17, 2011.
All the services were free of any attendance fee.
COME AND BRING ALL YOUR SICKNESS, DISEASES AND WE KNOW THAT JESUS BY THE POWER OF HIS HOLY SPIRIT WILL DELIVER YOU FROM WHAT AILS YOU.
Jesus is the same yesterday, today and forevermore.
Hebrews 13:8
Jesus Wants YOU Healed and Delivered from Poverty
"Blessed are the poor in spirit: for theirs is the kingdom of heaven. Blessed are they that mourn: for they shall be comforted. Blessed are the meek: for they shall inherit the earth. Blessed are they which do hunger and thirst after righteousness: for they shall be filled. Blessed are the merciful: for they shall obtain mercy. Blessed are the pure in heart: for they shall see God. Blessed are the peacemakers: for they shall be called the children of God."
For the testimony of Jesus is the spirit of prophecy.      ~ Rev. 19:10b
Prophecy is the testimony that Jesus is not dead but Alive and Speaking to you and I.
Kent Simpson,
Prophetic Pastor
For more prophetic media groups click here
---