Return to the Newsletter Archives
---

Next Move of the Holy Spirit
This is a Great Time to Be Alive! Many of you have been praying for your healing but have not seen results. Do not give up just yet, for everything is beginning to change. We have come through a long dry spell, and we now are beginning to see the breakthrough we have all sought.
Many in the ministry feel they have been put on a shelf, waiting for God to release His healing power. It is very exciting to see God gracing His church with miraculous healings of all kinds. Just two months ago I took my wife to River of Life Christian Center in Rusk, Texas because their email flyer indicated that they were coming against arthritis. Debbie had been battling for many years with this crippling disease. To our surprise, Debbie was not only miraculously healed of rheumatoid arthritis but also fibromyalgia and two other afflictions that caused her great discomfort. These are four major diseases God totally destroyed, and we only came seeking deliverance from one.
Now, I have prayed many times for my wife's healing. Many ministers and preachers have been praying over Debbie for years too, so why all of a sudden she is healed of all these painful infirmities? The glorious answer is the HOLY SPIRIT IS NOW MOVING, and it is time to jump in and receive your miracle healing. History has proven that with every tragedy our Nation has encountered our Heavenly Father has always been faithful to meet it with signs and wonders. He truly is the great I AM and He is waiting for you to say you are ready to receive His healing touch in exchange for your sickness.
Now, Lord, look on their threats, and grant to Your servants that with all boldness they may speak Your word, by stretching out Your hand to heal, and that signs and wonders may be done through the name of Your holy Servant Jesus." And when they had prayed, the place where they were assembled together was shaken; and they were all filled with the Holy Spirit, and they spoke the word of God with boldness.
Encountering Angels
Part 1 – Ministry of Jesus
We need to be aware of how Jesus moved and walked with the Father. The things Jesus did were done according to the will of the Father. He said, "I do nothing of my own authority. I speak only what I hear the Father say." That is the Christian way. That is the example for us. Many times Jesus would pray to find out what the Father had to say. And when Jesus prayed there were angels ascending and descending upon him giving him instructions from heaven above: "Thy will be on earth as it is in heaven." That means we need to find out first from heaven what needs to be done. And when we find out what it is that we are to do, nothing can stop us. Nothing!
Comments and Testimonies
For the testimony of Jesus is the spirit of prophecy.      ~ Rev. 19:10b
Prophecy is the testimony that Jesus is not dead but Alive and Speaking to you and I.
Kent Simpson,
Prophetic Pastor
---
Dear Prophet Kent,
In the prophecy you sent on 9th April 2010, you mentioned that I will be a holding a child that will bring me joy somewhere this time next year (paraphrased). I give glory to God that I gave birth to my second daughter on 14th March this year and indeed she has been an added joy to our family.
God bless you and your ministry abundantly.
Blessings,
Aimee
---
Greetings Pastor Kent,
Just wanted you to know that since the prayer has gone up re: another job for me I've started to get calls for interviews.
Please continue to pray I am blessed to have brothers & sisters In Christ who will support me this way.
Sister Wanda
CANADA
---
On December 17, Kent Simpson sent me a prophecy telling me that I needed to see some people, as they would not be here very long. So early January, I went to see an Aunt about 150 miles North of me and then to see my cousin, about 250 miles from me. In February about six weeks later my Aunt died from a heart attack. Then March 17th my favorite cousin died. Both were wonderful Christians. My cousin was a lay minister. (Kent said that one was very close to me). Yes, we were very close to each other. Kent knew nothing about these people and didn't know them, but he was 100% right.
Loraine
Big Spring, Texas
---
I Want to Be Your Prophetic Pastor
In the past I spent much of my time traveling to other countries, but ministering in distant places left me drained. I have decided to hang up my traveling shoes and focus upon those families who regularly support this ministry. It is time for me to develop a long term relationships with the people who have a real desire to learn more about what God is doing today.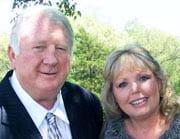 From 1989 to 1995 I ministered to over 250,000 people via prophecy tapes. I receive hundreds of prophecy requests each month and I will continue to send out personal prophecy tapes and CD's and Audio Emails to those who are seeking God.
In addition to the prophetic gift God has entrusted to me, the Lord has also directed me to become a Prophetic Pastor to those who will receive me. In this new capacity I can sow prophetic seeds into the lives of those who want to prosper with me. If you will allow me to be your Prophetic Pastor, I will commit to be there for you, and help you prosper in spiritual and financial health and wealth.
He who receives a prophet in the name of a prophet shall receive a prophet's reward. And he who receives a righteous man in the name of a righteous man shall receive a righteous man's reward.
In recent years, it has become almost impossible to reach me; my home telephone rings day and night. For this reason I have started the Family Partners who will have a direct line to my private phone. My private phone number allows Family Partners to reach me during times of trouble or when they are having difficulty finding God's will or when making tough decisions. When you call me, I will seek God's direction for you and help determine how God wants to meet your immediate needs.
Family Partner's
Receive Prophetic Counseling
Learning How to Know God's Will
Making Business Decisions
Working Out Family Problems
DVD of the Month Ministry Gift
2 Prophetic Teachings on CD
Prophetic Prayer & Counseling
Personal Training on How to Hear the Voice of God
Kent Simpson's Private Mobile Number
Prophetic Counseling & Personal Financial Freedom
Restoring Relationships
Forecasting Employment Options
Prophetic Prayer For All Needs
Guidance in Your Ministry
A Word of Knowledge
A Word of Wisdom
Prophesy Over Your Life
Solid Biblical Counseling
For more prophetic media groups click here
---