Return to the Newsletter Archives
---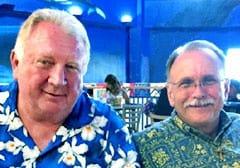 There were many times during my early childhood that I recall lying in my small twin bed and within my thoughts, I would talk to God. As I remember, every time I asked Him a question, He would answer me with another question. This forced me to stop and think, and I would always receive from Him more than just the answer to my question. With the knowledge I received from the question He asked, I would gain understanding about His wisdom.
For example: one night as I lay awake, unable to sleep, I asked God: "Why did you make feet so ugly?" In just a second or two, He answered me with this question: "How would you have made them?" As I struggled with how I would make feet, I became frustrated that all my thoughts generated around objects that had already been made. Chicken feet, horse hooves, and bear paws were coming to my mind as I began imagining how I would have made human feet. Finally, I just wore my little brain out and fell asleep. What I learned was this: nothing is new under the Sun. All that can be created is already here. Also, His answer to my question led me to understand His wisdom, that everything that He has created is beautiful, and that anything else to replace it would only bear the mark of a counterfeit.
This reminds me of the story of three scientists who decided that they were smart enough to create a man. They came to the brilliant conclusion that all they needed was to obtain some dirt from various parts of the world. As they stood before all the different mounds of soil, preparing to make a human, God spoke: "OH, NO! You make your own dirt!"
Even the simplest of things in life cannot be recreated without God. However, when His Word abides within us, we can make anything we may have need of appear out of thin air, if we will only believe.
So Jesus answered and said to them, "Have faith in God. For assuredly, I say to you, whoever says to this mountain, 'Be removed and be cast into the sea,' and does not doubt in his heart, but believes that those things he says will be done, he will have whatever he says. Therefore I say to you, whatever things you ask when you pray, believe that you receive them, and you will have them."
Can any Christian prophesy?
Yes. Paul says that we should all desire the gift of prophecy and that when we are in a congregation, that we can all prophesy, we should just be orderly and take turns. If that is true, why don't we see more of it?
First, we aren't taught this. Either we have been taught to question the validity of the gift, or that it belongs to a special "few." There is a difference between hearing a word from God (prophecy) and being called to be a prophet. Learning to hear God and to speak on His behalf is a birthright as a believer, but the calls on our lives, are God's choices. The fact that we are encouraged to ask for the gift of prophecy, is significant. Imagine a world where believers heard God and spoke His words rather than their own opinions and thoughts. We should all ask to hear Him and we should dedicate ourselves to understanding the ways in which He speaks so that we can encourage each other. His words have life and stir faith. It is His words that move mountains.
Comments and Testimonies
For the testimony of Jesus is the spirit of prophecy.      ~ Rev. 19:10b
Prophecy is the testimony that Jesus is not dead but Alive and Speaking to you and I.
Kent Simpson,
Prophetic Pastor
---
Hey Kent,
This is how Sterling responded to your word; well the one you gave him when he was 6years old. He had never heard it until I sent it to him right after this last word that he received last week from you. Here is a copy of the letter that he sent Tommie (our niece).
Vicky, Your Sister-n-law
---
Tommie,
What's going on girl? How have you been?
Life for me for the last couple of days has been very nice. I have felt uplifted and it effects my day substantially. I work better when I am feeling good and I feel physically less tired, which in turn makes me feel even better. It is a glorious cycle that I go through every now and then until I feel that I am going to burst with pure joy. Then something will happen that bums me out and I go back to normal but at that point it has to be something real bad to bring me down or a whole lot of little bad things. Right now my happiness meter is soaring through the clouds. God is blessing me left and right and I cannot praise him enough.
I got my first word of prophecy that I received as a six-year-old child, my mother sent it to me on paper. I cried like a baby reading it. Literally balled. If only I could be the man that was mentioned on that piece of paper. Now I want to strive for more. I had been telling myself that I have already grown a lot since coming out here and I can take it easy for a while, but now I say "No!" God has a plan for me to be much more and I will battle, fight, and endure until I become that man. I declare to you now Tommie, I will be that man. Whether it takes me 10 years, 20 years, 30 years. I will not stop growing as an individual until God wills it.
Thank you for listening. I needed to say said that or think it or write it or whatever. Out here in Afghanistan I am not fighting or battling. This step in my life calls for me to endure. To endure, as I have found, is not an easy thing to do. It is definitely something that I have really never had to do before now. It has forced me to make great leaps in patience and has improved my work ethic. I am taking everything this sorry place has to offer me. I am taking the money that it offers and the nice marks on my resume that comes along with it, but it is the other things I am taking away from Afghanistan that I am most proud of. There are things that I have previously mentioned like patience and work ethic as well as others. Such as the ability to not take things for granted. Simple things like family that I have always taken for granted. Levi has once told me that I have been brainwashed into believing that the family needs to stay together. I do not believe the family needs to stay together; I just simply want us to. There are no other people in the world I would rather sit down with and just talk. Being out here you realize the true value in having a family like that. Just talking with people out here I see how blessed my life is. How much of a fairy tale I have been living. I have not had to face hardships. I have not had to face true adversity. I have not had to endure anything. My life has been one blessing after another and I have always thought this is just how it was for everyone. I think I am beginning to see the gifts that GOD has given me. My lord and savior keeps me up on a joyful high so that I may bring others up with me. I saw it in pathways but I thought it was some kind of fluke. The lord has been slowly revealing it to me and I honestly have not totally realized it until composing this email. (this has taken me multiple days to write this) I have often called mom and told her that I was feeling so happy that it was freaking me out. I told her that it didn't feel sane or natural. I now believe that maybe it isn't natural. Maybe I get happiness attacks from GOD. As I have told my mother when it happens I feel like joy is literally boiling inside me and my actions alone are not enough to release it. I look to share it with others and have them ride the wave of happiness and laughter with me. This I have learned through enduring. I had to stop demanding answers from GOD and just patiently listen for him to tell me whatever he wants to tell me.
Tommie, good things happen to people who wait. Slow your thinking down. Slow down and take a breath. This is an important time in your life right now. Running around like a chicken with her head cut off will get you to places you don't want to go. Now is the time to stop and listen.
Love You,
Your Cuz,
Sterling
I Want to Be Your Prophetic Pastor
In the past I spent much of my time traveling to other countries, but ministering in distant places left me drained. I have decided to hang up my traveling shoes and focus upon those families who regularly support this ministry. It is time for me to develop a long term relationships with the people who have a real desire to learn more about what God is doing today.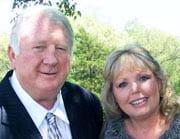 From 1989 to 1995 I ministered to over 250,000 people via prophecy tapes. I receive hundreds of prophecy requests each month and I will continue to send out personal prophecy tapes and CD's and Audio Emails to those who are seeking God.
In addition to the prophetic gift God has entrusted to me, the Lord has also directed me to become a Prophetic Pastor to those who will receive me. In this new capacity I can sow prophetic seeds into the lives of those who want to prosper with me. If you will allow me to be your Prophetic Pastor, I will commit to be there for you, and help you prosper in spiritual and financial health and wealth.
He who receives a prophet in the name of a prophet shall receive a prophet's reward. And he who receives a righteous man in the name of a righteous man shall receive a righteous man's reward. Matthew 10:41
Beloved, I pray that you may prosper in all things and be in health, just as your soul prospers.
3 John 2
In recent years, it has become almost impossible to reach me; my home telephone rings day and night. For this reason I have started the Family Partners who will have a direct line to my private phone. My private phone number allows Family Partners to reach me during times of trouble or when they are having difficulty finding God's will or when making tough decisions. When you call me, I will seek God's direction for you and help determine how God wants to meet your immediate needs.
Family Partner's
Receive Prophetic Counseling
Learning How to Know God's Will
Making Business Decisions
Working Out Family Problems
DVD of the Month Ministry Gift
2 Prophetic Teachings on CD
Prophetic Prayer & Counseling
Personal Training on How to Hear the Voice of God
Kent Simpson's Private Mobile Number
Prophetic Counseling & Personal Financial Freedom
Restoring Relationships
Forecasting Employment Options
Prophetic Prayer For All Needs
Guidance in Your Ministry
A Word of Knowledge
A Word of Wisdom
Prophesy Over Your Life
Solid Biblical Counseling
---


In HIS Service,
Kent Simpson, Prophetic Pastor
Prophetic Ministries Tabernacle
PO Box 774
Gainesville, Texas 76241
We appreciative any financial support you can share; Prophetic Ministries Tabernacle is very grateful for your gift.
Prophetic Ministry Tabernacle and Video Church Network is approved by the IRS as a 501(c) 3 Tax-Exempted Non-profit Corporation and is listed as a Digital Electronic Church and a Brick and Mortar Congregation.
For more prophetic media groups click here
---