Return to the Newsletter Archives
---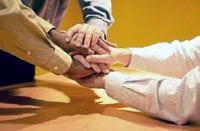 Over the years it has been amazing how God has used people as instruments of His divine will to bring us together for the purpose of delivering His Word. I would never have met any of the hundreds of people He has so graciously networked into our lives if it were not for His specially appointed leaders who obediently do His bidding. One such person is Glenn Landry, whom I have known since 1993. He and his wife Sandy, an author and teacher, have connected me to all kinds of people. Once the initial connection was made, the Holy Spirit would take over and begin to set up folks like dominos, ready to fall under the power of His Word being prophesied into their lives.
On one occasion Glenn called me one day and told me to come to his home on a scheduled day to be a part of a fish fry and instructed me to bring some tapes and my recorder. Well this was not the first time Glenn had made such a request, and I knew right away when he told me to bring my tape recorder ministry was going to be the dessert. However, this request was a bit different, you see, the men he had invited to his fish fry had been working on putting in underground utilities for a good size real estate development for Glenn. The one thing Glenn said that perked my ears was that these men "were lost as a bunch of geese, unsaved and foul mouthed." I told Glenn we need to play out this event differently than we had done in the past. We did not want to spook them off, so I asked Glenn to let me take the lead right after supper. Glenn agreed and I penned the date in my calendar, trusting the Holy Spirit to be in our presence.
When the day arrived for the big fish fry, I gathered my stuff and drove about 60 miles to Glenn's home. The first thing I noticed upon my arrival was the men seemed very uncomfortable in Glenn and Sandy's beautiful home overlooking the Nolan River. After we finished eating, the men were ready to take off, but Glenn pulled their reigns and they were steered into the grand room. As the men looked at the furniture and then looked at each other I could tell they did not think they were wearing the right clothes to sit down, but when Glenn said "SIT" they immediately sat down. Then Glenn turned and looked at me as to say, "You're up. I caught'em you clean'em!"
Before I ever left home I had been instructed by the Holy Spirit how to start out this conversation with these backwoods boys. I addressed the three men sitting on the sofa by asking them if they believed the people on television who proclaim they talk to the dead and can tell people about their lives. Their response was unanimous with comments like, "They just edit the taping so it seems like they told them something supernatural." Another said, "I think they have people talk to them before the show and then tell the speaker what they found out so they look gifted." I had expected these kinds of comments, so I said, "What if I could tell you things about your life without any of the tricks you mentioned; would you believe then?"
Suddenly they began to squirm around, looking very uncomfortable as I picked up my tape recorder. Without giving them a chance to move I started with the man closest to me, telling him what God was saying about his life, wife, kids and work. This large 6'4″ man began tearing up and trying to hide it from the others. After I was finished, I handed him the tape. The other two men were looking at him like he was a wimp, which made him angry; he jumped up, walked over to Glenn, stuck his finger in his face and chewed him out for telling me about him. Glenn calmly asked, "When did you tell me anything about your life, wife, kids or work?" Puzzled, the man turned to his co-workers and asked if they had talked to Glenn or me. They answered with a strong, "NO!" He turned to me and angrily said, "My uncle is a pastor, and I going to call him right now," and stormed out the door. I picked up my tape recorder and began prophesying over the other two men, leaving them confounded and dazed. Then the man who went outside came back in, moving rather slowly. I ask him what his uncle had said. With his head down, he said you were right and he wants to meet with you.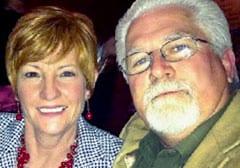 A few days later the man's uncle and I met at Glenn's home. The pastor brought his wife, and when I arrived they appeared to be a bit concerned. After introductions I said, "Well before we visit allow me to tell you what the Lord is saying about you and your ministry." I picked up my tape recorded and began to do what I do. When I finished, I handed them the tape and the pastor began to tell us what he had planned to do to test me to see if I was really from God. He said, "I told God on the way up that if this so-called prophet is from You he will not ask me a bunch of questions but just give me the word you want me to hear."
The Pastor and his wife were blessed and scheduled me to come to their church and minister. The Pastor's names are Bill and Teresa Campbell, and I have been blessed to minister to their congregation over the years. In fact, many of the videos you see on YouTube were recorded at the church were they pastor in Batson, Texas.
Testimonials
For the testimony of Jesus is the spirit of prophecy.      ~ Rev. 19:10b
Prophecy is the testimony that Jesus is not dead but Alive and Speaking to you and I.
Kent Simpson,
Prophetic Pastor
Hello Kent,
It is good to hear from you! Yes, you can add our e-mail address to your mailing list. I want to thank you for all of the prophecies that you have given us through the years. Just this past week I was reviewing them (even as far back as 1992) and want to let you know what an encouragement they are to me, till this day. It has taken a lot longer than I expected for many of them to come to pass. Nevertheless, God's timing is not our timing. Know that your ministry has significantly impacted thousands!
May the Lord continue to bless you, your family and ministry for His glory. Surely, the best is yet to come!
Blessings,
Rob & Kay Winters
Prepare the Way International
40325 N. Graham Way
Anthem, AZ 85086
623-337-7010
info@preparethewayint.com
www.preparethewayint.com
Read more Testimonials »
---


In HIS Service,
Kent Simpson, Prophetic Pastor
Prophetic Ministries Tabernacle
PO Box 774
Gainesville, Texas 76241
We appreciative any financial support you can share; Prophetic Ministries Tabernacle is very grateful for your gift.
Prophetic Ministry Tabernacle and Video Church Network is approved by the IRS as a 501(c) 3 Tax-Exempted Non-profit Corporation and is listed as a Digital Electronic Church and a Brick and Mortar Congregation.
For more prophetic media groups click here
---