Return to the Newsletter Archives
---

by Kent Simpson
Miracles Glorify Christ
"Now God worked unusual miracles by the hands of Paul, so that even handkerchiefs or aprons were brought from his body to the sick, and the diseases left them and the evil spirits went out of them"
Acts 19:11-12 (NKJV)

The Holy Scriptures tell us Jesus did so many miracles that if they all were recorded there would not be enough room to store all of the written accounts. That statement being true, it would be easy to understand that Jesus did miracles in ways we do not know. Yet it appears that we have this tacit belief that the only way a true miracle of God can be performed today is for it first to be found in the Bible. Jesus did not teach His disciples formulas or methods for creating miracles. He taught the only way you can move in any of the gifts of the Holy Spirit is to pray, hear and obey God. Then we should pray and do what He tells us to do and speak only what He says and that, my friends, is the way it works.
"This is the disciple who testifies of these things, and wrote these things; and we know that his testimony is true. And there are also many other things that Jesus did, which if they were written one by one, I suppose that even the world itself could not contain the books that would be written. Amen"
John 21:24,25 (NKJV)
In the summer of 1989, my weekly routine involved going to the early morning men's prayer breakfast each Friday. As usual, I was the first to show up, and since I had a key to the building I started to make the coffee. After a couple of cups I wondered if anyone was going to show up.
I watched the clock tick away for twenty minutes, and still no one had shown. Then, I caught sight of an 18-wheeler slowly pulling up at the curb. The driver sat in his truck for a minute then headed toward the building. I greeted the grizzly-looking man, asked his name and invited him in for a cup of coffee. He had never been to any of our prayer breakfast meetings and didn't know any members of our church. As I waited a few minutes for others to show, the trucker began to tell me about his life.
He was suffering from various addictions and was on the verge of a divorce. His father was an alcoholic, as were his brothers who were always in conflict with one another. A short time later a couple of the regular members showed up, and as we prepared to pray for the trucker, the Lord told me to take out my handkerchief and have everyone grab a corner; as we did the presence of the Holy Spirit filled the room.
In that moment, the trucker gave his life to Jesus, and when he did his countenance immediately began to change before our eyes. I instructed the trucker to take the handkerchief with him and tell his entire family what had happened.
A few months went by, and one Sunday morning I was surprised to see the once beaten-down soul was now dressed in a suit and tie with his wife and children at his side. After the sermon was delivered he asked if he could testify. The trucker told of his father and brothers being totally delivered of drugs and alcohol abuse and revealed that they too had given their lives to Jesus. He still had the handkerchief with him. As the congregation left the building, he came to me and gave my handkerchief back. As if to say, thank you, a tear ran down his face; we shook hands farewell and thanked God together.
Next week's message is titled: "Got Your Ears Turned On?"
Kent Simpson, Prophetic Pastor
aka, "The Mail Order Prophet"
www.PropheticMinistries.org
Did you miss last week's story on Impartation by Prophecy? Read Article Now »
You can now catch previous stories in our PREVIOUS WEEKS NEWSLETTERS »
Kent Simpson, Prophetic Pastor
aka, "The Mail Order Prophet"
www.PropheticMinistries.org
Read last week's story on Prophets & Angels »
Catch previous stories in our Newsletter Archives »
Comments and Testimonies
"He was clothed with a robe dipped in blood, and His name is called The Word of God." ~ Revelation 19:13
Prophecy is the testimony that Jesus is not dead but Alive and Speaking to you and I.
Kent Simpson,
Prophetic Pastor
---
Dear Prophet Kent Simpson,
I received my cd in the mail last week and played it. I am amazed at the word God gave you to share with me. I had asked God for confirmation of some things, which had been included in your word for me. Thank you so much for being who you are, taking the risk to share what God tells you about whomever asks for help, and speaking out regardless of what others think.
I love listening to your videos that are at the end of your emails, and sometimes listen to them over and over. I attend a church that is very conservative, so prophesy is new for me.
You are a blessing and a special treasure that God placed on this earth to encourage us. My prayers are with you.
May God bless you beyond anything you could ever imagine!
Cindy
---
You cannot even believe how amazing that prophecy was. The Lord told me years ago that I have the gift of language. I had some idea what that entailed but not entirely. I have often been around people speaking in another language and perked up to see if I could interpret what they were saying. I also have been praying over Israel and the US for God to raise up people like Elijah who will hear the plans of the enemy when they are planning in secret. They would then be able to share those plans and stop the enemy in their tracks. These are some of the things that were mentioned in the prophecy. These are things I have not shared with anyone. God is so good.
I am unable to send much of a donation at this time. I have been out of work for almost 10 months. I have been experiencing some physical problems that the Lord just showed me are due to mold in my apartment. They had problems with the roof so I am assuming that is where it started. So for my health I need to move. But I believe God showed me the mold issue because he has another place for me. So it is all good. I believe that God is about to do something amazing. When I am on the other side of all this I will send another offering. Thanks so much for this word.
I have gone to your website and made my donation to receive the prayer handkerchief. If you have any questions, please let me know.
Joy
---
Thank you SO much Debbie!
God bless you, Pastor Kent and the whole staff!
My prophecy was so awesome and very humbling. But the Lord is getting me ready to go do what I've always dreamed of doing. Having the Word of Knowledge and gift of prophecy to help people's lives. Awesome! Thank you again, much blessings to you all.
In Christ, Beverly
---
Join Our Prophetic Ministry & learn to operate in your prophetic gifts with the help of The School of Prophetic Knowledge.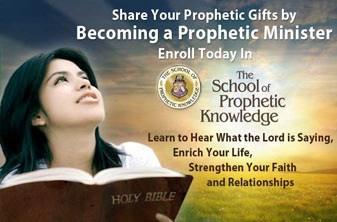 Whether you are looking for a way to deepen your relationship with God or you have a desire to share your prophetic gifts with others, Prophetic Ministries Tabernacle's School of Prophetic Knowledge has much to offer.
For starters, our staff at Prophetic Ministry Tabernacle and the gifted Prophetic Ministers participating in our ministry are friendly and helpful in providing support and guidance in your passion to minister to people in need. As you can see from from our website, we offer many resources to help you establish your internet ministry. Below are the steps which can help prepare you on your journey to becoming a Prophetic Minister.
The training DVD's will provide many hours of rich, encouraging and inspirational lessons to help take you to the next level of your relationship with God. But don't take our word for it, come see for yourself.
During your training, you will receive one-on-one instruction and oversight from Kent Simpson as you begin to reach out and operate in your prophetic gifts. So many people are needing a clear word from God. This is your opportunity serve God as a vessel for Him to speak through.
Becoming an Internet Prophetic Minister provides the perfect opportunity for you to win souls for Jesus.
Begin Today:
Step 1 – Enroll in the School of Prophetic Knowledge
Here's How:
Obtain the full Set of Prophetic Teaching DVD's
Complete Individual Study Guide for Each DVD
Make the Decision to Build Your Ministry Alongside PMT's Prophetic Ministers
Contact Pastor and Prophetic Minister Kent Simpson to Confirm Completion of Study Materials
Step 2 – Sign-up for One-on-One Prophetic Ministry Training
Here's How:
Make Your Financial Pledge to Become a Prophetic Family Partner
Begin Your One-on-One Training with Kent Simpson
Participate in the Prophetic Ministry Outreach
Step 3 – Build Your Ministry and Get on Board with PMT
Here's How:
Promotion to the Next Level – Listed as One of PMT Ministers in Training Prophesying on our latest web site FreePersonalProphecy.org
Offering Yourself as One of God's vessels to Speak through Receiving Offerings for your Ministry on our Newest website that is presently under construction GodHasAWordforYou.org
Receive 100% of All Contributions to Your Ministry Under the Banner of PMT 501(c)3 Status
SEND FOR YOUR DVD'S RIGHT NOW »
Read more Testimonials »
For more prophetic media groups click here
---