Return to the Newsletter Archives
---
Holy Spirit & Spiritual Gifts: Equipping the Saints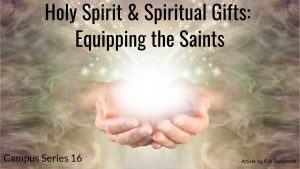 Before the Holy Spirit became available to all those who were baptized by fire, prophetic signs foreshadowed the Spirit-filled Era we live in today. Moses desired that all of Israel could have the Spirit upon them, prophesy, and heed the Voice of the Lord. Likewise, Christ equipped His Followers to go before Him and also continue His Work after He Ascended.
While Moses was leading the Israelites through the Wilderness, they continually found new reasons to moan and grumble. The constant barrage of complaints and critiques overwhelmed Moses to the point that he cried out to God "I am not able to carry all these people alone; the burden is too heavy for me!" (Numbers 11:14). God heard Moses' pleas and replied "Gather for me seventy of the elders of Israel, whom you know to be the elders of the people and officers over them; bring them to the Tent of Meeting, and have them take their place there with you. I will come down and talk with you there; and I will take some of the Spirit that is on you and put it on them; and they shall bear the burden of the people along with you so that you will not bear it all by yourself." (Numbers 11:15-16).
After the seventy elders consecrated themselves and went to the Tent of Meeting, the Holy Spirit came upon them and they began to prophesy. When two elders, Eldad and Medad, also received the Spirit and began prophesying in the camp, a young boy ran to the Tent of Meeting to inform Moses and the other elders. Joshua, the Helper of Moses and future leader of the Israelites, became afraid, since the men prophesying in the camp were not ordained under Moses in the Tent of Meeting, which Joshua feared would lead to people challenging Moses' exclusive leadership. Moses did not want sole responsibility over the Israelites and expressly desired "that all the Lord's People were prophets, and that the Lord would put His Spirit on them!" (ref. Numbers 11:24-29).
Prophet Joel predicted the era when God would pour out His Spirit upon ALL flesh; and sons and daughters would prophecy, old men would dream dreams, and young men would see visions and His Spirit would even be poured out on the least of them (ref. Joel 2:28-29).
After Christ's Transfiguration on the Mount of Olives, He appointed seventy of His Followers and sent them two by two before Him into every city and home He was going to visit and He gave them the power to heal the sick, preach the Gospel, and have command over demons (ref. Luke 10:1-20). A little while later, Apostle John informed Christ that they "saw someone driving out demons in His Name and told him to stop, because he was not one of the [70 Followers]". Christ enlightened His Disciples that "No one who does a miracle in My Name can in the next moment say anything bad about Me, for whoever is not against us is for Us. Do not stop him" (ref. Mark 9:38-40).
Apostle John mirrored the same fears Joshua expressed hundreds of years earlier, that the 70 Followers would not have exclusive access to Christ's Power. But Apostle Paul understood Moses' and Christ's desires that all should prophesy and develop spiritual gifts which would build up the Church (ref. 1 Corinthians 14:1-5, 12).
The responsibility of leading the Israelites was so great that Moses could not handle it on his own, so God provided a way for His Spirit to overflow onto others so they could help carry the obligation of governance. When Christ began preparing His Disciples before His Crucifixion and Ascension, and the roles they would have in leading the New Testament Church, He ensured they understood that many others not ordained during His Earthly Ministry would be working alongside them doing His Will. During Pentecost, the Holy Spirit fulfilled the prophecy that God's Spirit would come upon ALL flesh.
Though Christ is the Ultimate Leader of His Church, we all share a responsibility within His Spiritual Kingdom. After our baptism by fire and being filled with the Holy Spirit, we were equipped with a spiritual gift to fulfill our distinctive roles in our ministries. God does not desire that we be overburdened, but has given us the Holy Spirit as a Helper and our Brothers and Sisters in Christ to assist us as we mature in our gifts and walk with Christ and work together to build and edify the Body.
Prepared by, Kent Simpson, Apostolic Prophet & Eric Sepulveda, PMT Administrator
For more prophetic media groups click here
---