Return to the Newsletter Archives
---
The Art of Listening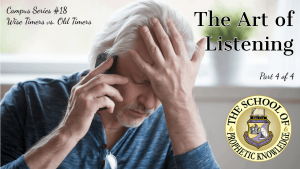 ---
Wise Timers vs Old Timers-Samuel: The Boy who Heard the Voice of God

After Israel conquered the Promised Land, there was a period of several hundred years where they had no centralized leadership and were ruled by a series of Judges under a loose confederation amongst the Tribes. The Voice of God was rarely heard, except for military emergencies, until a servant boy heard his name in the middle of the night.
Samuel's mother Hannah had been childless for many years, which weighed so heavy on her that whenever she and her devout husband went up to Shiloh, where the Tabernacle was stationed, to worship each year, she would be so overcome with grief and shame that she would weep and refuse to eat. During one of their trips to the House of the Lord, Hanna, in her deep anguish, prayed to the Lord, weeping bitterly, making a vow "Lord Almighty, if you will only look on your servant's misery and remember me, and not forget your servant but give her a son, then I will give him to the Lord for all the days of his life, and no razor will ever be used on his head."
Eli the Priest was sitting on his chair by the doorpost of the Lord's house, and as Hannah prayed to God, Eli watched her mouth. Hannah was praying in her heart, so her lips were moving but her voice was not heard. Eli misinterpreted this and thought she was drunk, chastising the broken woman, "How long are you going to stay drunk? Put away your wine."
Hannah explained, "I have not been drinking wine or beer; I was pouring out my soul to the Lord. I am a woman who is deeply troubled. Do not take your servant for a wicked woman; I have been praying here out of my great anguish and grief."
Eli, realizing his mistake, blessed "Go in Peace, and may the God of Israel grant you what you have asked of Him"
After thanking him for his blessing, she went back to her husband, finally ate her portion of the sacrificial meal, and her face was no longer downcast and sullen. Early the next morning, Hannah and her husband worshiped before the Lord and went back to their home where Hannah became pregnant and gave birth and named the child Samuel, because she was "heard by God".
Because Samuel had been dedicated to the Lord, Hannah resolved that "after [Samuel] is weaned, I will take him and present him before the Lord, and he will live there always". After making a sacrifice, Hannah brought Samuel to Eli the Priest, reminding him, "I am the woman who stood here beside you praying to the Lord. I prayed for this child, and the Lord granted me what I asked of Him. So now I will give him to the Lord. For his whole life he will be given over to the Lord" (ref. Samuel 1).
While Samuel ministered before the Lord under Eli the Priest, Eli's sons, Hophni & Phinehas, were scoundrels, holding no regard for the Lord. They insisted on taking a larger portion from sacrifices than the priest's allotted share and were sleeping with the women who ministered in front of the Tent of Meeting. Even after Eli had heard about his sons' behavior and confronted them, they did not listen to their father's rebuke & continued in their evil ways. (ref. Samuel 2)
When Samuel was still a young man, he heard a Voice calling his name in the middle of the night. Believing it was Eli, Samuel went to Eli's room, but Eli instructed Samuel to go back to bed. Samuel heard the Voice again and went to see if Eli needed him, only to be sent away once more. When Samuel heard the Voice a third time and checked on Eli, the Priest recognized that the Voice was from the God of Israel and instructed Samuel to respond "Speak, Lord, for your servant is listening" the next time he heard it.
This was a significant thing that someone heard directly from the Voice of God, since after the Israelites crossed into the Promised Land, God typically spoke through His Angels. No one had spoken plainly with God in this way since Moses.
To confirm his dedication and willingness to not only hear God's Voice, but follow it, God tested Samuel. God instructed him to explain to Eli that because of their lack of respect for their positions, seen by their stealing from the sacrifices and abusing those who they had authority over, God would punish them swiftly and severely.
Samuel was fearful of confronting and chastising the man who had raised him and whom he had served under all his life, but Samuel trusted and valued God's Voice more than his fears and told Eli what the Lord had told him.
After hearing the Judgement against his sons, rather than appealing to God or trying to turn his sons away from their wicked ways, Eli simply replied "He is the Lord; let him do what is good in His Eyes." (ref. 1 Samuel 3)
Later, during a campaign against the Philistines, Eli's sons were both killed and the Ark of the Covenant was captured. Upon hearing the devastating news, Eli fell back in his chair, broke his neck, and died.
Eli's sons Hophni and Phinehas had served in the Tabernacle under their father Eli since they were young men, just as Samuel had, but they lacked a servant's heart and the wisdom to follow the Ways of God. Though Eli served as Judge, whose role was to confront and attack Israel's enemies, when hearing God's Voice through Samuel, Eli did not try to save his sons from their behavior, so he and they, all died on the same day.(ref. 1 Samuel 4)
It was not enough for Eli and his sons to simply have high positions in the religious order as their unwillingness to both hear and listen to God's Instruction, led to their ultimate demise. Samuel, in contrast, succeeded Eli as the last Judge and served as a Prophet, because he not only heard the Voice of God, but listened to it. Seniority might move you through the ranks in some institutions, but God only promotes those who Listen and Obey.
Prepared by, Kent Simpson, Apostolic Prophet & Eric Sepulveda, PMT Administrator
For more prophetic media groups click here
---