Return to the Newsletter Archives
---
(Review of Mandate #15)
See Link to Video below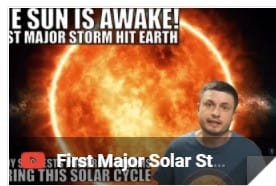 15th Apostolic Mandate
'Matrix Hacked by G3D'
Series#26 'Thy Will be Done in 2021.'
Recorded: June 20-2021
One Solar Flare Away:
When your enemy needs to be brought down to their knees we ask for our Spiritual Father to show us what we must do. As we have been following His Commands using Prophetic Signing and calling His Angelic Force, we are now ready to set His Plans into motion.
Our Lord has said; "It only takes One Solar Flare to bring your enemies to their knees." With this being said we must take into account that when His Wrath is unleashed it will rain on the unjust and us as well. Meaning we too will need to learn quickly how to adapt to the loss of our Digital World. For the Solar Flare will kill all digital electronic devices. Vehicles, Trains, Plains, Water & Electric Plants, Satellites, and all our personal devices. You will need to think and learn to live like a true outdoorsman.
We understand G3D has given the Remnant the Power; however, we lack the knowledge for the timing of the release.
We Declare & Decree; Our Lord will give each one of us our designated time to call for their Solar Flare to be released.
Remnant of G3D Did You Prophesy This Solar Storm?
https://www.youtube.com/watch?v=YuGY8foAiHc
First Major Solar Storm of the New Cycle – The Sun is Awake
243,716 views / Jun 21, 2021
#18 Apostolic Mandate
'Spiritual Re-Con'
Series#26 'Thy Will be Done in 2021.'
Recorded: July 11, 2021
RE-CON: Reconnaissance, a military term for gathering information;
        And so it was, when they had crossed over, that Elijah said to Elisha, "Ask! What may I do for you, before I am taken away from you?" Elisha said, "Please let a double portion of your spirit be upon me" (2 Kings 2:9 NKJV).
We must think and operate like the Prodigy Prophet of Elijah, Elisha. Elisha learned everything his predecessor had taught him. After he was taken up the process began and Elisha began to receive the second portion of Spiritual Knowledge straight from the Holy Spirit; i.e., Double Portion.
It is Written:
"Therefore, he sent horses and chariots and a great army there, and they came by night and surrounded the city. And when the servant of the Man of God arose early and went out, there was an army, surrounding the city with horses and chariots. And his servant said to him, "Alas, my master! What shall we do?"
So, he answered, "Do not fear, for those who are with us are more than those who are with them." And Elisha prayed, and said, "Lord, I pray, open his eyes that he may see." Then the Lord opened the eyes of the young man, and he saw. And behold, the mountain was full of horses and chariots of fire all around Elisha. So, when the Syrians came down to him, Elisha prayed to the Lord, and said, "Strike this people, I pray, with blindness." And He struck them with blindness according to the word of Elisha" (2 Kings 6:14-18 NKJV).
#18 Apostolic Mandate
'Spiritual Re-Con'
Series#26 'Thy Will be Done in 2021.'
Recorded: July 11, 2021
From the knowledge we gain from reading the Holy Scriptures we will begin to Move into this Gift of Spiritual Re-Con. Seeing those things that are needed to be known but unseen to anyone else.
        We will start by moving into a NEW PROPHETIC SIGNING. Pause Signings Decreed in the 10th & 11th Apostolic Mandates. Now we will proceed with these NEW Commandments. Opening the Hidden Veil between the Natural Realm and the Spiritual or Heavenly Realm.
Begin to Declare & Decree
Make known to Your Unknown Prophets of the Sacred Cloth the Four Corners of the Veil. Reveal to us the opening into things not yet known and reveal to us now.
Move and Declare & Decree
Imagine standing at the Whaling Wall of Jerusalem with your Holy Scriptures open in hand. Moving back and forth intently plead for the veil to open.
See, Declare & Decree

What you see record and send a copy to me.
It is Written:
"Now we have received, not the spirit of the world, but the Spirit who is from God, that we might know the things that have been freely given to us by G3D.
These things we also speak, not in words which man's wisdom teaches but which the Holy Spirit teaches, comparing spiritual things with spiritual. But the natural man does not receive the things of the Spirit of G3D, for they are foolishness to him; nor can he know them, because they are spiritually discerned" (1 Corinthians 2:12-14 NKJV).
#18 Apostolic Mandate
'Spiritual Re-Con'
Series#26 'Thy Will be Done in 2021.'
Recorded: July 11, 2021
Trance: 'A half-conscious state, seemingly between sleeping and waking, in which ability to function voluntarily may be suspended. A dazed or bewildered condition. In a state of complete mental absorption or deep musing. An unconscious, cataleptic, or hypnotic condition.'
Step into My Realm. With one foot in and one foot out. Place your mind (Soul) in an Un-Natural State will allow your spirit to look into the things that are invisible to the natural world. While in this spiritual condition you will see a part of the Vision of what needs to be known. With each Watchman I will share a different part of the Vision. With each part gathered up by My Appointed Prophet I will connect all the Visions together making known the Bigger Picture.
Will you allow your Soul to become My Canvas that I might Paint the complete Vision for all to know?
It is Written:
"There was a certain man in Caesarea called Cornelius, a centurion of what was called the Italian Regiment, a devout man and one who feared G3D with all his household, who gave alms generously to the people, and prayed to G3D always. About the ninth hour of the day, he saw clearly in a Vision an Angel of G3D coming in and saying to him, "Cornelius!" …(continued)
And when he observed him, he was afraid, and said, "What is it, lord?"
So, he said to him, "Your prayers and your alms have come up for a memorial before G3D. Now send men to Joppa, and send for Simon whose surname is Peter. He is lodging with Simon, a tanner, whose house is by the sea. He will tell you what you must do." And when the Angel who Spoke to him had departed, Cornelius called two of his household servants and a devout soldier from among those who waited on him continually. So, when he had explained all these things to them, he sent them to Joppa.
The next day, as they went on their journey and drew near the city, Peter went up on the housetop to pray, about the sixth hour. Then he became very hungry and wanted to eat; but while they made ready, he fell into a Trance and Saw Heaven Opened and an object like a great sheet bound at the Four Corners, descending to him and let down to the earth. In it were all kinds of four-footed animals of the earth, wild beasts, creeping things, and birds of the air. And a voice came to him, "Rise, Peter; kill and eat."
But Peter said, "Not so, Lord! For I have never eaten anything common or unclean."
And a Voice Spoke to him again the second time, "What God has cleansed you must not call common." This was done three times. And the object was Taken up into Heaven again.
Now while Peter Wondered within himself what this Vision which he had seen meant, behold, the men who had been sent from Cornelius had made inquiry for Simon's house, and stood before the gate. And they called and asked whether Simon, whose surname was Peter, was lodging there.
While Peter thought about the Vision, the Spirit said to him, "Behold, three men are seeking you. Arise therefore, go down and go with them, doubting nothing; for I have sent them." (Acts 10:1-20 NKJV).
(continued)
Open Study for Truth
We are going beyond the Ordinance of Constantine, a Roman Emperor who lived from 274 to 337 A.D. and King James I of England, KJV-1611 A.D.
The Epistle of Apostle Barnabas
http://www.earlychristianwritings.com/text/barnabas-lightfoot.html
Correct Interpretation of the Law of Moses: Regarding the forbidden meats
Barnabas 10:1
But forasmuch as Moses said; Ye shall not eat swine nor eagle nor falcon nor crow nor any fish which hath no scale upon it, he received in his understanding three ordinances.
Barnabas 10:2
Yea and further He saith unto them in Deuteronomy; And I will lay as a covenant upon this people My ordinances. So, then it is not a commandment of God that they should not bite with their teeth, but Moses spoke it in spirit.
Barnabas 10:3
Accordingly he mentioned the swine with this intent. Thou shalt not cleave, saith he, to such men who are like unto swine; that is, when they are in luxury they forget the Lord, but when they are in want they recognize the Lord, just as the swine when it eats it knowns not his lord, but when it is hungry it squeals out, and when it has received food again it is silent.
Barnabas 10:4
Neither shalt thou eat eagle nor falcon nor kite nor crow. Thou shalt not, He saith, cleave unto, or be likened to, such men who now not how to provide food for themselves by toil and sweat, but in their lawlessness seize what belongs to others, and as if they were walking in guilelessness watch and search about for someone to rob in their rapacity, just as these birds alone do not provide food for themselves, but sit idle and seek how they may eat the meat that belongs to others, being pestilent in their evil-doings.
Barnabas 10:5
And thou shalt not eat, saith He, lamprey nor polypus nor cuttle fish. Thou shalt not, He means do not become like such men, who are desperately wicked, and are already condemned to death, just as these fishes alone are accursed and swim in the depths, not swimming on the surface like the rest, but dwell on the ground beneath the
deep sea.
Barnabas 10:6
Moreover thou shalt not eat the hare.
Why so? Thou shalt not be found a corrupter of boys, nor shalt thou become like such persons; for the hare gains one passage in the body every year; for according to the number of years it lives it has just so many
orifices.
Barnabas 10:7
Again, neither shalt thou eat the hyena; thou shalt not, saith He, become an adulterer or a fornicator, neither shalt thou resemble such persons.
Why so? Because this animal changes its nature year by year, and becometh at one time male and at another female.
Barnabas 10:8
Moreover He hath hated the weasel also and with good reason. Thou shalt not, saith He, become such as those men of whom we hear as working iniquity with their mouth for uncleanness, neither shalt thou cleave unto impure women who work iniquity with their mouth. For this animal conceives with its mouth.
Barnabas 10:9
Concerning meats then Moses received three decrees to this effect and uttered them in a spiritual sense; but they accepted them according to the lust of the flesh, as though they referred to eating.
Barnabas 10:10
And David also receives knowledge of the same three decrees, and saith; Blessed is the man who hath not gone in the council of the ungodly–even as the fishes go in darkness into the depths; and hath not stood in the path of sinners–just as they who pretend to
fear the Lord sin like swine; and hath not sat on the seat of the destroyers–as the birds that are seated for prey. Ye have now the complete lesson concerning eating.
Barnabas 10:11
Again Moses saith; You shall eat everything that has a divided hoof and chews the cud. What does he mean? He that receives the food knows Him that giveth him the food, and being refreshed appears to rejoice in him. Well said he, having regard to the commandment.
What then does he mean? Cleave unto those that fear the Lord, with those who meditate in their heart on the distinction of the word which they have received, with those who tell of the ordinances of the Lord and keep them, with those who know that meditation is a work of gladness and who chew the cud of the word of the Lord. But why that which divides the hoof? Because the righteous man both walketh in this world, and at the same time looks for the holy world to come. Ye see how wise a lawgiver Moses was.
Barnabas 10:12
But whence should they perceive or understand these things? Howbeit we having justly perceived the commandments tell them as the Lord willed. To this end He circumcised our ears and hearts, that we might understand these things.
*Words underlined have been changed from Old English to a more current form of the English language. Made simpler for the reader to understand.
Prophet Kent Simpson
Prophetic Ministries Today
The School of Prophetic Knowledge
https://www.propheticministries.org/
For more prophetic media groups click here
---