Return to the Newsletter Archives
---
3rd Order of Melchizedek
'Evolution of the Order'
Series#27 'What to Do in 2022'
Recorded: January 16, 2022  
What Do You Mean Evolution?
The definition of Evolution; A gradual process in which something changes into a different and usually more complex or better form.
Change is Hard to Deal With:
This statement I am about make sounds controversial; however, when you look at G3D's timeline it makes sense.  I will use Scripture to show you what I mean. In the book of Hebrews, the 13th chapter in the 8th verse it's recorded; "Jesus Christ is the same yesterday, today, and forever." Now, do you think this mean nothing changes because He does not change? To correctly understand this verse, we must look at it from a different perspective. Think of it this way. This means what He has planned for His Kingdom and all its subjects remains the same no matter what form it evolves into.
Let's Talk abt. The Kingdom of G3D:
"For the Kingdom of G3D is not in word but in Power" (1 Corinthians 4:20 NKJV).
Then He said, "What is the Kingdom of G3D like? And to what shall I compare it? It is like a mustard seed, which a man took and put in his garden; and it grew and became a large tree, and the birds of the air nested in its branches" (Luke 13:18-19 NKJV).
3rd Order of Melchizedek
'Evolution of the Order'
Series#27 'What to Do in 2022'
Recorded: January 16, 2022  
What has Evolved?
It is obvious to His Believers that there have been many transitions over the past four millenniums. We even have two different Testaments: Old and New.
We see in the Gospel of John how G3D transformed or Evolved into a Man; "In the beginning was the Word, and the Word was with G3D, and the Word was G3D. He was in the beginning with G3D. All things were made through Him, and without Him nothing was made that was made. In Him was life, and the life was the light of men. And the light shines in the darkness, and the darkness did not 'overcome' it" (John 1:1-5 NKJV).
If the first 5 verse of Scripture do not speak to you then maybe these verses will; "He was in the world, and the world was made through Him, and the world did not know Him. He came to His own, and His own did not receive Him. But as many as received Him, to them He gave the 'authority' to become children of G3D, to those who believe in His name: who were born, not of blood, nor of the will of the flesh, nor of the will of man, but of G3D. And the Word became flesh and dwelt among us, and we beheld His glory, the glory as of the only begotten of the Father, full of grace and truth" (John 1:10-14 NKJV).
We also read where the Word that became flesh leaves and ask the Father to send the Holy Spirit in His place. "These things I have spoken to you while being present with you. But the Helper, the Holy Spirit, whom the Father will send in My name, He will teach you all things, and bring to your remembrance all things that I said to you" (John 14:25-26 NKJV).
These are just a few of the more evident Evolutions in the Order of Melchizedek.
3rd Order of Melchizedek
'Evolution of the Order'
Series#27 'What to Do in 2022'
Recorded: January 16, 2022  
The Spiritually Immature R-without Knowledge:
Those who Pray, Hear & Obey are considered the Elect of G3D. The Spiritually Mature will be considered by G3D as Subjects of Honor in His Kingdom. Acquiring the Thoughts and Ways of G3D manifest a measure of His perfection according to the Order of Melchizedek.
Do not expect everyone who is satisfied as a partaker of the Milk of the Word Only to be classified as one of the Spiritually Elect Subjects Honored by G3D.
"For though by this time you ought to be teachers, you need someone to teach you again the first principles of the oracles of G3D; and you have come to need milk and not solid food. For everyone who partakes only of milk is unskilled in the Word of Righteousness, for he is a babe. But solid food belongs to those who are mature in spiritual age, that is, those who by reason of (practice) have their senses exercised to discern both good and evil" (Hebrews 5:12-14 NKJV)
Who Will Judge the Angels?
It is impossible for the immature believer to know what's Right by G3D, i.e. His Righteousness. The spiritually incompetent cannot rightfully know G3D's Thoughts are Ways. Only the Spiritually Elect will be appointed to judge the world and the spiritual beings, heavenly and demonic.
"Do you not know that the saints will judge the world? And if the world will be judged by you, are you unworthy to judge the smallest matters? Do you not know that we shall judge angels? How much more, things that pertain to this life? If then you have judgments concerning things pertaining to this life, do you appoint those who are least esteemed by the church to judge?" (1 Corinthians 6:2-4)
Recap from the Past
'This is Not a Game!'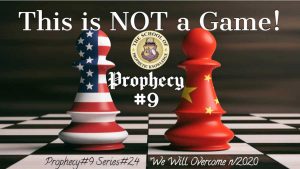 Prophecy #9
Recorded: October 25, 2020  
Our Lord is asking, "WHO IS TESTING THE TEST KITS?
          "The Dragon is laughing with the Far Left as they gayfully howl out loud saying, "It's Right In Their Noses!"
          "My Sheep, do not follow them they are leading you astray!"
"Can you not see that they control where the COVID goes?" "They simply send out Tainted Test Kits like throwing lit matches into dry grass!"
Our Lord Jesus is asking, "Do you trust everyone but ME?"
"I AM, Your Shepard and I am telling you to turn away. DO NOT fear them, Hear Me, and Obey and the COVID will go away!"  
Confirmation- https://www.purplelionproject.com/post/all-about-the-swab
His Word to YOU!
Do you realize that when you Speak My Prophetic Word on Earth your appointed Angels will effectively cause the Prophecy to Come to Pass? When judging your Angels, you must consider how strong they are.
By the measure you have exercised them determines the strength of their powers to do His Word. Training your Appointed Angels requires three elements. Your ability to seek out and find G3D's Prophetic Word; Knowing the Meaning of His Word and finally; The correct appointed time when to deliver His Prophetic Word.
Prophet Kent Simpson
Prophetic Ministries Today
The School of Prophetic Knowledge
https://www.propheticministries.org/
For more prophetic media groups click here
---