Return to the Newsletter Archives
---
5th Order of Melchizedek
'Ruled by Confusion'
Series#27 'What to Do in 2022'
Recorded: January 30, 2022  
Heavenly vs. Demonic Wisdom:
"Who is wise and understanding among you? Let him show by good conduct that his works are done in the meekness of wisdom. But if you have bitter envy and selfish ambition in your hearts, do not boast and lie against the Truth. This wisdom does not descend from above, but is earthly, sensual, Demonic. For where envy and self-seeking exist, confusion and every evil thing are there. But the Wisdom that is from above is first Pure, then Peaceable, Gentle, willing to yield, full of mercy and good fruits, without partiality and without hypocrisy" 
"Now the Fruit of Righteousness is sown in Peace by those Who Make Peace" (James 3:13-18 NKJV)
Since the incursion of our Presidential elections Chaos and Confusion have been the game played to smear out the Truth. They can change the meaning of our words, but Truth will always remain for the same. For Truth is the Holy Spirit who lives within the Believer who has Ears to Hear and knows what to do and who they believe will not lead them astray.
"However, when He, the Spirit of truth, has come, He will guide you into all truth; for He will not speak on His own authority, but whatever He hears He will speak; and He will tell you things to come" (John 16:13 NKJV).
5th Order of Melchizedek
'Ruled by Confusion'
Series#27 'What to Do in 2022'
Recorded: January 30, 2022  
Demonic Wisdom is Costly:
"The Lord will strike you with the boils of Egypt, with tumors, with the scab, and with the itch, from which you cannot be healed. The Lord will strike you with madness and blindness and Confusion of heart. And you shall grope at noonday, as a blind man gropes in darkness; you shall not prosper in your ways; you shall be only oppressed and plundered continually, and no one shall save you" (Deuteronomy 28:27-29 NKJV)
Our Lord is allowing our enemy to release a combination of plaques like smallpox; a Variola Virus  member of the Poxviridae family, a family of large, double-stranded DNA viruses that replicate in the cytoplasm of host cells and encodes enzymes for transcription and DNA replication. Meaning it will mess you up.
Why Would our Lord Allow Such a Thing to Happen? 
For the Believer there is nothing to fear for the taste of death has no sting. The Elect simply pass over an enter their next life. Depending upon the Believers accounts of righteousness will determine their rewards and the type of life they will lead in the hereafter. 
Also, for those who have an Ear to Hear will know what not to do escaping the wrath of these plagues. During these turbulent events the Believers will witness many horrors; however, they will not be moved for they know the Who, when, where and why.
"But it shall come to pass, if you do not Obey the Voice of the Lord your God, to observe carefully all His commandments and His statutes which I command you today, that all these curses will come upon you and overtake you" (Deuteronomy 28:15 NKJV)
5th Order of Melchizedek
'Ruled by Confusion'
Series#27 'What to Do in 2022'
Recorded: January 30, 2022  
Curse & Wrath of G3D is Coming: 
"Cursed shall you be when you come in and cursed shall you be when you go out. The Lord will send on you cursing, Confusion, and rebuke in all that you set your hand to do, until you are destroyed and until you perish quickly, because of the wickedness of your doings in which you have forsaken Me. The Lord will make the Plague cling to you until He has consumed you from the land which you are going to possess" (Deuteronomy 28:19-21 NKJV)
Our Lord is saying today; "They do not take Me serious nor believe in Me even though I have blessed this Nation. Surely they will believe in Me and cry out My Name when I send My Wrath."
Our Lord is asking you, "How will you Overcome Your Enemy? They are Followers of Lucifer, and they are being empowered by his demons. Calling them up from the Pits of Hell to help overtake the world and all its people." 
"My Fury Rages as I see only a few of My People attempting to turn the Tide of Destruction. Did I not tell you in the Scriptures that My People will Perish for a Lack of Knowledge?"  
"Repent from Ignoring Me and My Knowledge and Wisdom. I have given you everything you need to Win this Battle; however, your Preachers and Teachers have Denounced My Knowledge. Telling you it is too old to believe it is for today. Their so-called wisdom will only lead you into bondage."  
"My people are destroyed for Lack of Knowledge. Because they have Rejected My Knowledge, I also will Reject them from being Priest for Me; Because they have forgotten the Law of their God, I also will Forget their Children" 
Re-Cap from Feb. 2021
My Sword is Your Word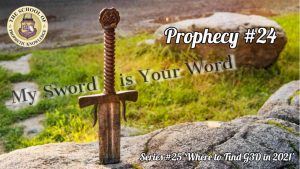 Recorded: February 14, 2021
Prophecy #24-a

Our Lord is saying, "The spirit of darkness is moving at great speed with malice to destroy this Nation that bears My Name. 'Your Words are My Words', says our Lord. Do not hold your Tongue for now is the Time to Prophesy. From your Place of Prayer Seek Me, says G3D. When you Pray in the Spirit, I will fill your Sheath with a Flaming Sword. When My Unction comes upon you draw out My Double Edge Sword. My Vengeance will Lay Open the Heart and Soul of Our Enemies."
"For the next 3 weeks you will repeat these steps to find My Prophetic Word. As you speak My Words, they will become Your Words until My Sword has Pierced the Stone. At the End of the Third Week, you will begin to witness Your Rewards."
It is Written:
"Lord Jesus is revealed from heaven with His mighty Angels, in Flaming Fire taking Vengeance on those Who Do Not Know God, and on those who Do Not Obey the Gospel of our Lord Jesus Christ" (2 Thessalonians 1:7b-8 NKJV).
Prophecy#24-b
Our Lord is saying, "Prepare for the Impossible! As My People Pray and Prophesy ~ Angels from above will exact Heavens Vengeance. Nowhere shall Satan's Ambassadors find a Place that is Safe." 
"As My Warriors Pray and Prophesy the Angelic Host will take the Sword of Your Words and Flay their Hides. Like a Bore Worm drilling into their Minds, they will be catapulted into Unbelievable Madness. Haunting Memories of the Cruelty they have Forged upon the Innocent shall Dig Deep into their Sick Conscience. Their only escape will be to end their Perverted Lives."
It is Written:
"You, therefore, Son of Man, Prophesy, and Strike Your Hands together. The Third Time let the Sword do Double Damage. It is the Sword that Slays, the Sword that Slays the Great Men, that enters their Private Chambers. I have set the Point of the Sword Against all their Gates, that the Heart May Melt and many may Stumble." (Ezekiel 21:14-15 NKJV).
Prophet Kent Simpson
Prophetic Ministries Today
The School of Prophetic Knowledge
https://www.propheticministries.org/
For more prophetic media groups click here
---