Return to the Newsletter Archives
---
6th Order of Melchizedek
'Terrestrial Christians'
Series#27 'What to Do in 2022'
Recorded: February 6, 2022  
The Apostolic Reform aka; 'The Move of G3D.'
"Truth is common knowledge but known only too a few. Too much truth is difficult for the Body of Christ to swallow. Choking and unable to savor the Word they will declare it bitter as it clogs their palates. It will become more evident as the new Apostolic Reform takes its place. It is G3D's plan to Releasing more of His Power to His True Believers."
"G3D is calling out His Special Remnant of People to receive the Deeper Revelations that will empower His Nation" (HKS January 30, 2017) 
What is a Terrestrial Christian?
"All flesh is not the same flesh, but there is one kind of flesh of men, another … of animals, … of fish, and … of birds. There are also Celestial (heavenly) bodies and Terrestrial (worldly) bodies; but the glory of the Celestial (heavenly) is one, and the glory of the Terrestrial (earthly) is another There is one glory of the sun, … glory of the moon, and … glory of the stars; for one star differs from another star in glory. So also, is the resurrection of the dead. The body is sown in corruption, it is raised in incorruption. It is sown in dishonor; it is raised in glory. It is sown in weakness; it is raised in power. It is sown a natural body; it is raised a spiritual body. There is a natural body, and there is a spiritual body" (1 Corinthians 15:37-44 NKJV).
6th Order of Melchizedek
'Terrestrial Christians'
Series#27 'What to Do in 2022'
Recorded: February 6, 2022  
Comparing Apples to Oranges:
Not all Christians are alike. When you compare the Terrestrial Christians to the Celestial Christians it is like comparing apples to oranges. In many ways they are different. Beginning with the difference the love of money vs. being a good steward of your gains, greedy vs. charitable, lying to get ahead vs. being truthful regardless of the outcome etc. …. 
"No servant can serve two masters; for either he will hate the one and love the other, or else he will be loyal to the one and despise the other. You cannot serve G3D and mammon" (mammon: material wealth or possessions especially as having a debasing influence) (Luke 16:13 NKJV)
Birth Pangs in the Spirit groans for what it to come. Knowing the greatest reward that can be earned in heaven is to become a martyr for the Kingdom of G3D.
"For we know that if our earthly house, this tent, is destroyed, we have a building from G3D, a house not made with hands, eternal in the heavens. For in this we groan, earnestly desiring to be clothed with our habitation which is from heaven, if indeed, having been clothed, we shall not be found naked. For we who are in this tent groan, being burdened, not because we want to be unclothed, but further clothed, that mortality may be swallowed up by life. Now He who has prepared us for this very thing is G3D, who also has given us the Spirit as a guarantee" 
"So, we are always confident, knowing that while we are at home in the body, we are absent from the Lord. For we walk by faith, not by sight. We are confident, yes, well pleased rather to be absent from the body and to be present with the Lord" (1 Corinthians 5:1-8 NKJV).
6th Order of Melchizedek
'Terrestrial Christians'
Series#27 'What to Do in 2022'
Recorded: February 6, 2022  
Know Them by Their Testimony: 
From the craft above me many voices could be heard praising Jesus. These voices I heard as Our Lord hovered over me. Many witnessed this event in the 11th hour. It was in the summer of the year of Lord, 1987. As our Lord rode upon His three-tiered Cherub. Like a dark cloud He flew over us. Then He stopped. It was then I could hear the many voices, but I could not make out their words. (I will explain more in the video and podcast).
"Then he said to me, "Write: 'Blessed are those who are called to the marriage supper of the Lamb!' And he said to me, these are the true sayings of G3D. And I fell at his feet to worship him. But he said to me, See that you do not do that! I am your fellow servant, and of your brethren who have the testimony of Jesus. Worship G3D! For the testimony of Jesus is the spirit of prophecy" (Revelation 19:9-10 NKJV).
What does it mean 'the testimony of Jesus is the spirit of prophecy?' You can obtain a lot of spiritual knowledge by knowing the ways and thoughts of G3D. However, you must first ask in the Spirit what it is you desire to know. Then wait upon Him to take you through the experience that teaches you what you are wanting to know. So, this Sunday, I will tell you what I have learned regarding this question; 'how can giving your testimony be the same as prophesying?'
"And they overcame him by the blood of the Lamb and by the word of their testimony, and they did not love their lives to the death" (Revelation 12:11 NKJV).
If you have come to a place in your walk with G3D that you now yearn to give your life for the cause of Christ, then you have earned the key to walking in the supernatural. With this Key you can unlock the Secrets of Melchizedek. 
Recap from August 1999
THINGS TO COME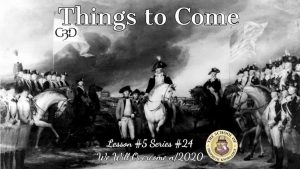 Prophecy from August 1999
Younger Generation to Turn Course of The Nation
Wealth Coming into The Hands of Christian Business Leaders:
     Like the high-tide swells, great wealth shall begin to come into the hands of Christian Business Leaders. Revelations, inventions and high tech ideas will be birth in the hearts of those who walk in righteousness, placing the economic control in the camps of those who are trustworthy to expand G3D's kingdom.
It is Written:
"A good man leaves an inheritance to his children's children, but the wealth of the sinner is stored up for the righteous" (Proverbs 13:22 NKJV)
     The Church will see a change in leadership transferring the ruling rod to the Apostles and Prophets commissioned to rebuild the Church on the foundation of Jesus Christ, the Chief Cornerstone. With this change a strong bridge of alliance will be built between the Church and government. In that day, we will see Apostles and Prophets walking with high-ranking government officials noted to be the eyes and ears of our new revolutionized nation. These things the Lord has shared with me this day. May we pray and be blessed in it. 
It is Written:
And G3D has appointed these in the Church: first Apostles, second Prophets, third Teachers, after that miracles, then gifts of healings, helps, administrations, varieties of tongues.(1 Corinthians 12:28 NKJV)
Prophet Kent Simpson
Prophetic Ministries Today
The School of Prophetic Knowledge
https://www.propheticministries.org/
For more prophetic media groups click here
---