Return to the Newsletter Archives
---
7th Order of Melchizedek
'Mysteries of Melchizedek'
Series#27 'What to Do in 2022'
Recorded: February 20, 2022  
Who is Melchizedek?
"The Oath for Confirmation is for them an end to all disputes. Thus G3D, determining to show more abundantly to the Heirs of Promise the immutability of His Counsel, guaranteed by HIS Oath, that by two immutable things, in which it is impossible for G3D to lie, we might have strong consolation, who have fled for refuge to lay hold of the Hope set before us. This Hope we have as an anchor of the soul, both sure and steadfast, and which Enters the Presence Behind the Veil, where the forerunner has entered for us, even Jesus, having become High Priest forever according to the Order of Melchizedek" (ref. Hebrews 6:16-20).
Take special not of the underlined wording used in the above passage; "Enters the Presence Behind the Veil" what do you propose the writer is saying here? We today as Heirs of His Oath have been afforded the ability to go through the veil to enter His Presence at any give time.
"Melchizedek, King of Salem, priest of the Most-High God, who met Abraham returning from the slaughter of the kings and blessed him, to whom also Abraham gave a tenth part of all, first being translated "King of Righteousness," without father, without mother, without genealogy, having neither beginning of days nor end of life, but made like the Son of God, remains a priest continually" (ref. Hebrews 7:1-3)
7th Order of Melchizedek
'Mysteries of Melchizedek'
Series#27 'What to Do in 2022'
Recorded: February 20, 2022  
What is the Order of Melchizedek?
Here are just few of the Promises in His Oath to those who are True Heirs of His Covenant.
"But to which of the Angels has He ever said: 'Sit at My right hand, till I make Your enemies Your footstool'? Are they not all Ministering Spirits sent forth to minister for those who will Inherit Salvation?" (Hebrews 1:13-14 NKJV).
This verse does NOT imply that Jesus was an Angel. It does, however, say that Jesus has always been above the angels. And their job was to minister for those who are Heirs of His Covenant. Or to say, Benefactors who have been Bequeathed in His Covenant by His Oath of promises to His True Believers.
Another Promise within His Oath we find in the Gospel according to John.
 "Most assuredly, I say to you, he who believes in Me, the works that I do he will do also; and greater works than these he will do, because I go to My Father. And whatever you ask in My Name, that I will do, that the Father may be glorified in the Son. If you ask anything in My Name, I will do it" (John 14:12-14 NKJV).
This passage has been incorrectly taught that when you pray "Say in the Name of Jesus and you shall have what you ask." Sorry, this does not work like you may have been taught and I am glad it doesn't. Why, you say?
The Order of Melchizedek requires you must seek G3D to find what you are to do or say to acquire what you think you have need of. Many times, you will discover the Holy Spirit will show you what you really need and not what you think you need. Jesus said, The words that speak to you I do not speak on My own authority; but the Father who dwells in Me does the works" (John 14:10b NKJV). 
7th Order of Melchizedek
'Mysteries of Melchizedek'
Series#27 'What to Do in 2022'
Recorded: February 20, 2022  
More Benefits under the Order of Melchizedek: 
(See Prophecy #10 "You Have the Power" (November 2, 2020)
The Importance for Acquiring the Knowledge of G3D: 
"Therefore, I have *hewn them by the prophets, I have slain them by the words of My mouth; And your judgments are like light that goes forth. For I desire **mercy and not sacrifice, And the Knowledge of G3D more than burnt offerings" (Hosea 6:5-6 NKJV).
*Hewn: to cut or shaped with hard blows of a heavy cutting instrument like an ax or chisel "a house built of hewn logs" "rough- hewn stone" "a path hewn through the underbrush" synonyms: hand-hewn cut fashioned or shaped by cutting
**Mercy: faithfulness or loyalty
It is Time to Experience the Touch of G3D:
Healing, Prophecy, Word of Knowledge, Miracle or Unspoken
Do You Need a Prophetic Word from G3D!
I am compelled by the Holy Spirit to receive your request for a Prophetic Word from G3D under these circumstances. I only do prophecies via Video sent to your email.
All donations go toward the Vision for the Tabernacle and Campus. Normally, the minimum donations are $127.00 as a minimum.
If you desire to make a donation toward the Vision, go this link: https://www.propheticministries.org/donation/ and make your donation then email me back at this email address ProphetSimpson@gmail.com let me know if you have any questions or concerns.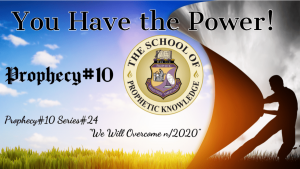 You Have the Power!
Prophecy#10 Series#24
Recorded: November 2, 2020

My Word Abides Within YOU:
"If you know My Word then You know My Ways and My Thoughts. Therefore, when you Speak on My behalf Angels hear My Word that is abiding within you. Your Words are My Words, and My Angels will Obey!
It is Written:
"If you Abide in Me, and My words Abide in you, you will ask what you desire, and it shall be done for you" (John 15:7 NKJV).
His Power Lives in You:
"When troubles are near, My Word is closer. You are My Temple and I live within you. From the depths of your heart draw upon My Word from the Wellspring of Grace flowing through you."
It is Written:
"For You are the temple of the living G3D. As God has said: "I will dwell in them and walk among them. I will be their G3D, and they shall be My people" (2 Corinthians 6:16 NKJV).
His Perfect Will:
"When you are in My Perfect Will your enemies cannot touch you. Do not entertain the devils lies, he only delivers fear. Our Lord says, 'I will cause your life to abound when you turn closer to Me.'"
It is Written:
"Therefore, Submit to G3D. Resist the devil and he will flee from you" (James 4:7 NKJV).
The Anointing Teaches All Things:
"Do not stress yourself worrying about being in My Will. If you know My Anointing when it comes upon you, then you will know what to do. When you follow through and do what I am asking you. Then you are in My Perfect Will; therefore, the evil one will touch you."
It is Written:
"But the Anointing which you have received from Him abides in you, and you do not need that anyone teach you; but as the same Anointing teaches you concerning all things, and is true, and is not a lie, and just as it has taught you, you will abide in Him" (John 2:27 NKJV).
The Evil One Cannot Touch YOU!
"We know that whoever is born of G3D does not sin; but he who has been born of G3D keeps himself, and the wicked one does not touch him" (1 John 5:18 NKJV)
Prophet Kent Simpson
Prophetic Ministries Today
The School of Prophetic Knowledge
https://www.propheticministries.org/
For more prophetic media groups click here
---