Return to the Newsletter Archives
---
9h Order of Melchizedek
'The After Life'
Series #27 'What to Do in 2022'
Recorded: March 6, 2022  
When is Our Resurrection?
"Jesus cried out again with a loud voice and yielded up His Spirit. Then, behold, the veil of the temple was torn in two from top to bottom; and the earth quaked, and the rocks were split, and the graves were opened; and many bodies of the saints who had fallen asleep were raised; and coming out of the graves after His resurrection, they went into the holy city and appeared to many" (Matthew 27:50-53 NKJV).
According to Medical records over 8 million people have experienced The After Life. Going to the other side and coming back. A few have returned to deliver a message from G3D. (4a copy medical report & more email ProphetSimpson@gmail.com)
"And His disciples asked Him, saying, "Why then do the scribes say that Elijah must come first?" 
"Jesus answered and said to them, "Indeed, Elijah is coming first and will restore all things. But I say to you that Elijah has come already, and they did not know him but did to him whatever they wished. Likewise, the Son of Man is also about to suffer at their hands." Then the disciples understood that He spoke to them of John the Baptist" (Matthew 17:10-13).
"It is the Spirit who gives life; the flesh profits nothing. The words that I speak to you are spirit, and they are life" (John 6:63 NKJV).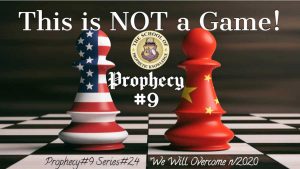 Recap: This is NOT a Game!
Prophecy #9 Series #24
Recorded: October 25, 2020

It is Written:
"And the dragon was enraged with the woman-[Church], and he went to make war with the rest of her offspring-[allies], who keep the Commandments of God and have the testimony of Jesus Christ" (Revelation 12:17 NKJV).
Our Lord is asking, "WHO IS TESTING THE TEST KITS?
          "The Dragon is laughing with the Far Left as they gayfully howl out loud saying, "It's Right In Their Noses!"
          "My Sheep, do not follow them they are leading you astray!"
"Can you not see that they control where the COVID goes?" "They simply send out Tainted Test Kits like throwing lit matches into dry grass!"
Our Lord Jesus is asking, "Do you trust everyone but ME?"
"I AM, Your Shepard and I am telling you to turn away. DO NOT fear them, Hear Me, and Obey and the COVID will go away!"   (see page 2 & 3 below)
Poison Control Centers Warn About Toxic Chemical in At-Home COVID-19 Test Kits
By Jack Phillips
February 27, 2022 Updated: February 28, 2022
Some at-home rapid COVID-19 tests contain a toxic chemical that may be harmful to both children and adults, according to health officials.
The Cincinnati Drug and Poison Information Center reported an uptick in accidental exposures to a possibly toxic substance in at-home COVID-19 test kits, according to a blog post. Meanwhile, the National Poison Control Center issued a warning about the chemical.
"It is important to know that the extraction vial in many rapid antigen kits includes the chemical sodium azide as a preservative agent," the center said. "The BinaxNow, BD Veritor, Flowflex, and Celltrion DiaTrust COVID-19 rapid antigen kits all contain this chemical."
Sodium azide is a colorless, odorless powder that testers dip cotton swabs into. The chemical is found in herbicides, pest control agents, and airbags for cars.
"Small doses of sodium azide can lower blood pressure, and larger doses may cause more serious health effects," an advisory from Health Canada also said. "ProClin is also found in many kits. It contains chemicals that can cause skin and eye irritation, as well as allergic reactions."
Some hospitals around the United States say they have received a surge in phone calls about exposures to the chemical.
"We started getting our first exposures to these test kits around early November," said Sheila Goertemoeller, pharmacist and clinical toxicologist for the Cincinnati Children's Hospital Medical Center. "It was, really, all ages."
"Mostly, I've been very worried about our young children."
Accidental exposure is occurring among both children and adults, said Dr. Kelly Johnson-Arbor, with the National Capital Poison Center in Washington, told WNEP over the weekend.
"People might mistake them for eye drops. Children might drop it onto their skin. Adults will sometimes mistakenly put them into their eyes," she said.
"You don't want to leave it on the skin because it could potentially cause an allergic reaction or a skin rash.
"If someone drinks the solution, it's really important to contact poison control right away. The solutions have different ingredients. Some have non-toxic ingredients and others have more dangerous ingredients."
Officials told WNEP that there's no need to throw away the test kits, but people should be mindful when using them.
"Use them properly, dispose of them properly, and it won't cause an issue," Dr. Jeffrey Jahre, with St. Luke's University Health Network, told the outlet.
If you suspect you or someone you know has ingested the chemical, officials recommend not to make the person vomit. For eye exposures, rinse the eyes for 15 to 20 minutes with warm water. For skin exposures, rinse the skin well with tap water. Immediately check the Poison Control Center's online tool for guidance or call poison control at 1-800-222-1222, the website says.
Prophet Kent Simpson
Prophetic Ministries Today
The School of Prophetic Knowledge
https://www.propheticministries.org/
For more prophetic media groups click here
---