Return to the Newsletter Archives
---
10h Order of Melchizedek
'Celestial Shores'
Series #27 'What to Do in 2022'
Recorded: March 13, 2022  
Heaven's Celestial Shores:
This Sunday we will gleam through the passage of Lazarus death and resurrection. There is much more to learn from this event. We'll learn from the points of prophetic interest that will help us navigate in the supernatural; however, it takes the Holy Spirit to teach us what we've missed. 
Jesus knew the exact time to call Lazarus from the grave. 

He knew when to go and when to stay out of danger.

What happened to Lazarus after he was raised from the grave? 

Did he have to die again?

(and much more)
Now Jesus loved Martha and her sister and Lazarus. So, when He heard that he was sick, He stayed two more days in the place where He was. Then after this He said to the disciples, "Let us go to Judea again."
The disciples said to Him, "Rabbi, lately the Jews sought to stone You, and are You going there again?"
Jesus answered, "Are there not twelve hours in the day? If anyone walks in the day, he does not stumble, because he sees the light of this world. But if one walks in the night, he stumbles, because the light is not in him." These things He said, and after that He said to them, "Our friend Lazarus sleeps, but I go that I may wake him up."
Then His disciples said, "Lord, if he sleeps, he will get well." However, Jesus spoke of his death, but they thought that He was speaking about taking rest in sleep.
Then Jesus said to them plainly, "Lazarus is dead. And I am glad for your sakes that I was not there, that you may believe. Nevertheless, let us go to him."
Then Thomas, who is called the Twin, said to his fellow disciples, "Let us also go, that we may die with Him." (sarcastically speaking meaning, ~we too will be stoned with Jesus~)
I Am the Resurrection and the Life
So, when Jesus came, He found that he had already been in the tomb four days. Now Bethany was near Jerusalem, about two miles away. And many of the Jews had joined the women around Martha and Mary, to comfort them concerning their brother.
Then Martha, as soon as she heard that Jesus was coming, went and met Him, but Mary was sitting in the house. Now Martha said to Jesus, "Lord, if You had been here, my brother would not have died. But even now I know that whatever You ask of God, God will give You."
Jesus said to her, "Your brother will rise again."
Martha said to Him, "I know that he will rise again in the resurrection at the last day."
Jesus said to her, "I am the resurrection and the life. He who believes in Me, though he may die, he shall live. And whoever lives and believes in Me shall never die. Do you believe this?"
She said to Him, "Yes, Lord, I believe that You are the Christ, the Son of God, who is to come into the world."
Jesus and Death, the Last Enemy
And when she had said these things, she went her way and secretly called Mary her sister, saying, "The Teacher has come and is calling for you." As soon as she heard that, she arose quickly and came to Him. Now Jesus had not yet come into the town but was in the place where Martha met Him. Then the Jews who were with her in the house, and comforting her, when they saw that Mary rose-up quickly and went out, followed her, saying, "She is going to the tomb to weep there."
Then, when Mary came where Jesus was, and saw Him, she fell-down at His feet, saying to Him, "Lord, if You had been here, my brother would not have died."
Therefore, when Jesus saw her weeping, and the Jews who came with her weeping, He groaned in the spirit and was troubled. And He said, "Where have you laid him?"
They said to Him, "Lord, come and see."
Jesus wept. Then the Jews said, "See how He loved him!"
And some of them said, "Could not this Man, who opened the eyes of the blind, also have kept this man from dying?"
Lazarus Raised from the Dead
Then Jesus, again groaning in Himself, came to the tomb. It was a cave, and a stone lay against it. Jesus said, "Take away the stone."
Martha, the sister of him who was dead, said to Him, "Lord, by this time there is a stench, for he has been dead four days."
Jesus said to her, "Did I not say to you that if you would believe you would see the glory of God?" Then they took away the stone from the place where the dead man was lying. And Jesus lifted-up His eyes and said, "Father, I thank You that You have heard Me. And I know that You always hear Me, but because of the people who are standing by I said this, that they may believe that You sent Me." Now when He had said these things, He cried with a loud voice, "Lazarus, come forth!" And he who had died came out bound hand and foot with graveclothes, and his face was wrapped with a cloth. Jesus said to them, "Loose him, and let him go." (John 11:5-44 NKJV)
So, can a believer of G3D raise another from the dead?

Tell of a man who was shot is the head and was raised from the dead.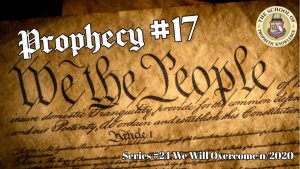 Recap: We the PEOPLE?
Prophecy #17 Series #24
Recorded: December 20, 2020

Prophecy#17-a
Our Lord has said, "I have Loosed the Hounds who will Hunt the Financial Trails tracking the monies sown into Corrupting the Powers in Politics, Justice, Law, and Order." 
"Now the Hounds are chasing the Evil Doers up the Tree of Unforgiveness. What they thought in the beginning was a Money Tree, free and easy money if you are willingly to do Lucifer's Bidding."
"Surprisingly, the Spirit of Corruption has been found in the Least Expected People. From top Ranks of Justice down through the channels of Law and Order. Their Souls were Sold to the Devil. Selling Out their Families, Friends, and Nation for the Love of Money."
"Woe unto those who have Partaken of the Crumbs that have fallen from the Table of Sin. Blinded to Justice and having no Fear of the Law soon they shall experience the Wrath of We the People.'" 
It is Written:
"For the Love of Money is a Root of all kinds of Evil, for which some have Strayed from the Faith in their greediness and pierced themselves through with many sorrows" (1 Timothy 6:10 NKJV).
Prophecy#17-b
I AM is saying, "With the stroke of My Arm I will move the Corrupt into the open for all to see. Justice Begins and Ends with ME!"
"Looking for answers many will see their Evil World Slipping Away. With Bent Illusions forming in their souls, they will assume that a Foreign Invasion has begun."
"With no Fake News nor Tech Marauders to sooth their Reprobate Minds they will violently strike out to harm 'We the People." 
"Those who worship the gods of Asia. Look at yourself Lashing out against the Righteous. Are you so foolish to believe that I will stand by and allow you to Rule?" 
"Observe, 'We the People' will stand up against your Tyranny of Evil Masters and they will NOT be Standing Alone. I will Unleash all of Your Evil Superstitions. They will Come Alive Haunting your every move to Your Demise."  
It is Written:
"Has the Lord's arm been shortened? Now you shall see whether what I say will happen to you or not" (Numbers 11:23 NKJV).
Prophet Kent Simpson
Prophetic Ministries Today
The School of Prophetic Knowledge
https://www.propheticministries.org/
For more prophetic media groups click here
---