Return to the Newsletter Archives
---
11th Order of Melchizedek
'Believe & Never Die'
Series #27 'What to Do in 2022'
Recorded: March 20, 2022  
What Does Jesus Mean; Believe in Me and Never Die?
Jesus said to her, "I Am the resurrection and the life. He who believes in Me, though he may die, he shall live. And whoever lives and believes in Me shall never die. Do you believe this?" (John 11:25-26 NKJV)
Let us search His Spirit for Understanding:
"He who believes in Me, though he may die, he shall live."
"Therefore, I said to you that you will die in your sins; for if you do not believe that I am He, you will die in your sins" (John 8:24).
"And His disciples asked Him, saying, "Why then do the scribes say that Elijah must come first?" 
"Jesus answered and said to them, "Indeed, Elijah is coming first and will restore all things. But I say to you that Elijah has come already, and they did not know him but did to him whatever they wished. Likewise, the Son of Man is also about to suffer at their hands." Then the disciples understood that He spoke to them of John the Baptist" (Matthew 17:10-13).
"For to me, to live is Christ, and to die is gain" (Philippians 1:21).
So much to understand regarding what Life awaits us on the Other~Side.
11th Order of Melchizedek
'Believe & Never Die'
Series #27 'What to Do in 2022'
Recorded: March 20, 2022  
Prophetically Speaking G3D has Revealed a Great Deal about the Life we will Live on the Other~Side.
We know the Believer's Soul and Spirit Never Die, RIGHT! So, if we do not die how do we continue to live? (The Video and Podcast will expose the current details.) Acquiring the Thoughts and Ways of G3D are all about discovering those things that have been hidden. The Mysteries are now being uncovered as the Holy Spirit is sharing with us what G3D wants us to know. Only those who have ears to hear can comprehend what is being said. (This segment will reveal to us the Truth, and one day this Truth will become widely known.) 
Note: Believing His Word without Doing His Word is Not Believing at all! It would be Better to Never Hear His Word than to Hear and Not Obey.
Remember, Every Doctrine has a Measure of Truth.
The link of Truth that we have been missing is now coming to light. This Light of Truth will cast out any darkness of doubt regarding the Hereafter. 
Releasing the Hidden Truths always difficult and costly. Even Jesus lost a massive number of followers when He revealed Hidden Truths. Like this passage of Scripture from the Gospel of John. 
"Most assuredly, I say to you, unless you eat the flesh of the Son of Man and drink His blood, you have no life in you. Whoever eats My flesh and drinks My blood has eternal life, and I will raise him up at the last day. For My flesh is (True)food indeed, and My blood is (True)drink indeed. He who eats My flesh and drinks My blood abides in Me, and I in him. As the living Father sent Me, and I live because of the Father, so he who feeds on Me will live because of Me. This is the bread which came down from heaven—not as your fathers ate the manna and are dead. He who eats this bread will live forever."
Therefore, many of His disciples, when they heard this, said, "This is a hard saying; who can understand it?"
When Jesus knew in Himself that His disciples complained about this, He said to them, "Does this offend you? What then if you should see the Son of Man ascend where He was before? It is the Spirit who gives life; the flesh profits nothing. The words that I speak to you are spirit, and they are life. But there are some of you who do not believe." For Jesus knew from the beginning who they were who did not believe, and who would betray Him. And He said, "Therefore I have said to you that no one can come to Me unless it has been granted to him by My Father."
From that time many of His disciples went back and walked with Him NO more. Then Jesus said to the twelve, "Do you also want to go away?" (John 6:53-67 NKJV)
Communion and Beyond:
Still today, we partake of Jesus Body and Blood during Communion in remembrance of who He is and what He has accomplished; however, there is much more still to come.
So how can it be that we can still receive Jesus as the Bread of Life and His Blood the Spirit of Truth?
If Jesus is sitting at the Right-Hand of Power making intercession for His Church, then what are all the Believers on the Other~Side doing?
Next Sunday, during the 12th Order of Melchizedek I will unveil The Shocking Truth of What Happens when we get to the Other~Side.
It is Written: "He who hears you hears Me, he who rejects you rejects Me, and he who rejects Me rejects Him who sent Me." (Luke 10:16 NKJV)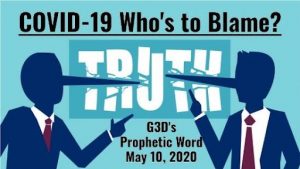 Recap: COVID-19 Who's to Blame?
G3D's Prophetic Word
Recorded: May 10, 2020
Talk of War
Tensions are at their highest as the

blame game

continues between the

USA and China

. Thugs on both sides rattling their sabers flashing warning signs demanding the other to back down and accept the blame.

Loss of life and trillions of dollars are at stake in this quarrel between two super-powers

. 
A Deadly Game in Play
Before weapons are drawn

G3D

will bring into the light the

3 main players responsible for the loss of all these lives and financial ruin

.

You see China, the Dragon, does not always lie, they just speak half-truths

. Oh, they truly have

breathed into the fire that started it all

; however, they are not totally at fault.

They hold 3 major cards yet to be played

.

On each card is the face of a prominent player who will ultimately be charged

.

Surprisingly, these 3 faces are American's who set COVID-19 into motion

. They and the Dragon had equal motives to play this horrible game. 
Their Purposes and Motives
Cripple the economy

,

Stop the elections

,

Create havoc to coverup political crimes

,

Release evil prisoners while making convicts out of honest hard-working people

,

Deliver despair, Stop the freedom rallies

,

Implement a vaccine that creates human time-bombs

, Feed their fixation

to control the population

, who live and who die, and

Shut down the Churches

.
Tower of Babel and One World Government
Do you see their modus of operandi? They desire to control everyone starting with the

Nation of the Free

and home of the brave. If they can take your freedom, then everyone will be forced to speak the same language and

you'll have to agree with their plans or be eradicated

. 
G3D's Warning.
"Do not touch My anointed ones,
And do My prophets no harm."
(Psalms 105:15)
Prophet Kent Simpson
Prophetic Ministries Today
The School of Prophetic Knowledge
https://www.propheticministries.org/
For more prophetic media groups click here
---