Return to the Newsletter Archives
---
2nd Question?
'What is Salvation?'
Series #28 'Sharing His Knowledge in 2022'
Recorded: April 17, 2022  
Once Saved, Always Saved?
Few issues contribute to more disunity in the body of Christ than an ages old debate over eternal security. Some say "Once Saved, Always Saved" while others make the case for Christians being able to lose their salvation. The former crowd points to verses like John 10:27-28 "My sheep hear my voice, and I know them, and they follow me: And I give unto them eternal life; and they shall never perish, neither shall any man pluck them out of my hand."  The same would be said for the verses Hebrews 10:14 "For by one offering he hath perfected forever them that are sanctified" John 3:16 "For God so loved the world, that he gave his only begotten Son, that whosoever believeth in him should not perish, but have everlasting life" and Romans 6:23 "For the wages of sin is death; but the gift of God is eternal life through Jesus Christ our Lord."
 
Can We Fall From Grace?
Those that believe in what John Wesley called "backsliding" to the point of returning to a lost condition refer to verses like Hebrews 6:4-6 "For it is impossible for those who were once enlightened, and have tasted of the heavenly gift, and were made partakers of the Holy Ghost, And have tasted the good word of God, and the powers of the world to come, If they shall fall away, to renew them again unto repentance; seeing they crucify to themselves the Son of God afresh, and put him to an open shame." 2 Peter 1:10 seems to indicate the possibility of a fall with the words "Wherefore the rather, brethren, give diligence to make your calling and election sure: for if ye do these things, ye shall never fall:" This sounds like the writer is saying it takes diligence on the part of Christians to avoid a fall from grace much like is referred to in Galatians 5:4 "Christ is become of no effect unto you, whosoever of you are justified by the law; ye are fallen from grace."
 
Which Side Is Right?
Each side of the argument has ample scriptural evidence to support their view point and this begs the question about which group is right. I believe that both sides are correct about what they embrace and both sides are wrong for not accepting the belief of the other camp. It is time for the church to come to agreement and settle this dispute.
 
Is This A Strange Paradox?
The issue concerns confusion over what it means to be born again as differentiated from being saved. Many if not most Christians do not know the difference if they are aware of one at all. In fact, the dissimilarity is substantial; however, the answer is in how we are created in His Image.
Can We Solve this Dalmia?
Being Born-Again and being Saved are NOT totally the same. Allow me to explain. When we are Born-Again your Spirit is Saved for all eternity. We read in Ephesians 2:8-9 "For by grace you have been saved through faith, and that not of yourselves; it is the gift of God, not of works, lest anyone should boast." This passage clearly states when you are called to repentance by G3D, and you accept Jesus Christ as your Savior your spirit is secured for all eternity. However, your soul (mind, will and emotions) needs to be renewed or to come into agreement with your new spirit born of G3D. There is a part of (the spirit part) that dies when you are born-again. As Paul explains in his letter to the, Romans 6:5-7 "For if we have been united-together in the likeness of His death, certainly we also shall be in the likeness of His resurrection, knowing this, that our old man was crucified with Him, that the body of sin might be done away with, that we should no longer be slaves of sin. For he who has died (in spirit) has been freed from sin."
Losing Your Salvation for Your Soul and/or Body?
On the other hand, you can lose your Salvation for your Soul and/or Body through disobedience but still be eternally secure in your Spirit. A good example of losing Salvation in your Soul and/or Body can be found in; Philippians 2:12-13; "Therefore, my beloved, as you have always obeyed, not as in my presence only, but now much more in my absence, work out your own salvation with fear and trembling; for it is God who works in you both to will and to do for His good pleasure."
Can Sin Take My Salvation Away?
Next week we will be seeking G3D's Knowledge for what Sin is; however, for this week we need to touch upon Salvation lost through Sin. Remember, when you were Born-Again your old man (spirit) dies and your new G3D born-again spirit was resurrected in place of your dead spirit. Here is how the writer says in Hebrews 9:27; "it is appointed for men to die once, but after this the judgment, so Christ was offered once to bear the sins of many. And to the Church at Ephesus Paul writes instruction how a true believer is to walk.
"So I say this, and affirm in the Lord, that you are to no longer walk just as the Gentiles also walk, in the futility of their minds, being darkened in their understanding, excluded from the life of God because of the ignorance that is in them, because of the hardness of their heart; and they, having become callous, have given themselves up to indecent behavior for the practice of every kind of impurity with greediness. But you did not learn Christ in this way, if indeed you have heard Him and have been taught in Him, just as Truth is in Jesus, that, in reference to your former way of life, you are to rid yourselves of the old self, which is being corrupted in accordance with the lusts of deceit, and that you are to be renewed in the spirit of your minds, and to put on the new self, which in the likeness of God has been created in righteousness and holiness of the Truth" (Ephesians 4:17-24 NASB).
Is to be Saved is the same thing as being Born-Again? 
Salvation of the Spirit is eternal? 
Must the old spirit die to before you can be Born-Again?
Salvation of the Spirit is different from Salvation of the Soul and/or Body?
Easter Sunday in His Presence
"For the testimony of Jesus is the spirit of prophecy"
(Revelation 19:10c).
When a Word of Prophecy is fulfilled it becomes the Testimony that Jesus is Not Dead but Alive and He's speaking to you and I.
ReCap from November 8-2020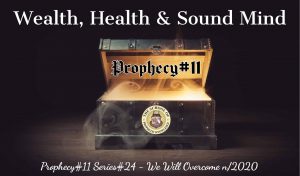 Prophecy #11
Wealth, Health, & Sound Mind
Recorded: November 8, 2020  
It is Written:
"For God has not given us a spirit of fear, but of power and of love and of a sound mind" (2 Timothy 1:7 NKJV).
Prophecy #3-a
"Why trouble your Soul with things you cannot change. Do you not know that I am the Light of Hope and when things get out of control you can call on Me?"
"Do not lose heart if things do not go your way. Hold back those thoughts that cause your emotions take over. Cast your cares over to Me. Then sit back and watch what I can do for you."
"Before David became King, he was tested many times which strengthen his faith in Me. He went face to face with a bear and a lion. When the time came to stand before the giant, Goliath, he was ready. He knew he could not die for it was prophesied he would become king. Therefore, he could not be defeated. At any time, he could have quit. Although, he chose to believe in his prophecy and lived an amazing life."   
Prophecy #11-b
"Do you not know those who believe in Me and have received My Spirit are My Chosen People? No longer should you say wealth is only for a particular nationality or tribe of people. Many people from around world have thumbed their noses up as if to say, they are more special to Me than you will ever be." 
"My Chosen are those who believe with all their hearts and follow Me wherever I take them. Believers from around the world I will use in these trouble times. They will call down fire, stop the rain, flood the dry lands and move mountains of wealth from the hands of the wicked into My Kingdom Towers to establish My People."
It is Written:
"Believe in the Lord your God, and you shall be established; believe His prophets, and you shall prosper" (2 Chronicles 20:20c NKJV)
Prophecy #11-c
"Sickness and Disease does not have to be for those who believe. However, I look around and see so many who are claiming their Sickness as something to brag about. Others are wearing their Disease like a badge that says, 'Feel sorry for me, I am in need.'"
"If you will allow Me, I will take your Sickness and Disease and set you free so you can serve Me and My people."
  "There are 3 Ways I can heal you; by a miraculous healing, or through the knowledge I have given to the Doctors, and the final way is to Bring You Home where there is no Sickness or Disease."
It is Written:
"Then He appointed twelve, that they might be with Him and that He might send them out to preach, and to have power to heal sicknesses and to cast out demons" (Mark 3:14-15 NKJV)
"But seek first the kingdom of God and His righteousness, and all these things shall be added to you" (Matthew 6:33 NKJV)
Prophecy #11-d
"Your reasoning will never override MY Purpose. You may say what I allow to happen in your world is unjust. But what you are really saying is you know more than your G3D."
"What can you add to MY Wisdom? Do you have the knowledge to teach ME what you think I need to know? I AM, the beginning and the end and I control everything in between. Your harsh counsel will not move ME!"
It is Written:
"The fear of the Lord is the beginning of knowledge, but fools despise wisdom and instruction" (Proverbs 1:7 NKJV).
Prophet Kent Simpson
Prophetic Ministries Today
The School of Prophetic Knowledge
https://www.propheticministries.org/
For more prophetic media groups click here
---