Return to the Newsletter Archives
---
3rd Question?
'What about Sin?'
Series #28 'Sharing His Knowledge in 2022'
Recorded: April 24, 2022  
What Is Sin?
We hear a lot about sin from Sunday pulpits and while there is variance among preachers concerning where the gray area ends and the sin begins the consensus generally is that they are against it. The same can be said for G3D in scripture. Not surprisingly Our Lord has a firmer grasp on the subject.
Paul tells us in Romans 14:23 "..for whatsoever is not of faith is sin." Paul is teaching in this chapter that if G3D has not by way of revelation given you liberty in an area it is sin for you to do it. He makes the point about whether or not one should eat meat or only herbs saying, "and he who doubts is condemned if he eats, because he does not eat from faith; for whatever is not from faith is sin…" But Paul says for himself that G3D has assured him that it is permissible to eat both telling us in verse 14 "I know and am convinced by the Lord Jesus that there is nothing unclean of itself; but to him who considers anything to be unclean, to him it is unclean."
In Romans 2:14-15 Paul talks about the law being written in our hearts "For when Gentiles, who do not have the law, by nature do the things in the law, these, although not having the law, are a law to themselves, who show the work of the law written in their hearts, their conscience also bearing witness, and between themselves their thoughts accusing or else excusing them)"
Paul says this is how even a gentile can do the will of G3D without actually knowing or practicing the law. G3D writes the law in the hearts of men. This takes us back to Paul's premise "whatsoever is not of faith is sin" which gives rise to the question "How do we get faith?"
Paul addresses this question in Romans 10:17 "So faith comes from hearing and hearing by the word of Christ." Word in this verse is a translation of the Greek word "Rhema" and means that which is The Spoken Word of G3D. The Spirit of Jesus can come through the written word, even Jewish law and the Bible. However, The Spoken Word "Rhema Word" is faith coming to you from what Jesus is saying by way of His Spirit, the Holy Spirit. This is an ongoing process until the day G3D takes us home to be with Him. 
Romans 8:14 tells us "For as many as are led by the Spirit of G3D, these are sons of G3D." The way it works is Jesus speaks, the Holy Spirit shares His words with us by way of our Born-Again human spirit and as a result we have to choose to obey. If we choose to disregard what Jesus says James tells us in 4:17 "Therefore, to him who knows to do good and does not do it, to him it is sin."
Roman chapter 1:17 says "For in it the righteousness of G3D is revealed from faith to faith; as it is written, "The just shall live by faith." So quite literally we live by hearing G3D and obeying the law written in our hearts by Him. This gives understanding to Hebrews 11:6 "But without faith it is impossible to please Him, for he who comes to G3D must believe that He is, and that He is a rewarder of those who diligently seek Him." Paul indicates that this law written in the hearts of men is an individual process and that as we work out our salvation with fear and trembling, we should not judge others that have not received the same faith yet. 
Paul says for some it is alright to eat meat and for others their faith will not allow it. He calls neither wrong but only admonishes us not to let our liberty cause another to stumble. Let us all live according to the manner of Paul in Romans 14:22 "Do you have faith? Have it to yourself before G3D. Happy is he who does not condemn himself in what he approves." 
Paul is letting us know that we should not look to our brothers and sisters in the Lord to emulate their behavior necessarily. What G3D has approved for another may not be the case for you. Once again, we cannot escape the truth that the Christian Way is to Pray, Hear and Obey.
Is Breaking the Law SIN?
Check this Out Rahab is listed in the Hall of Fame of the Faithful:
Hebrews 11:31 "By faith the harlot Rahab did not perish with those who did not believe, when she had received the spies with peace." But Rahab lied! She said she did not see the spies. Yet they were on her rooftop. She lied!
Look What James Says:
James 2:24-26 
You see then that a man is justified by works, and not by faith only.
Likewise, was not Rahab the harlot also justified by works when she received the messengers and sent them out another way?
For as the body without the spirit is dead, so faith without works is dead also. 
For the Rest of the Story: (Read – Joshua 2:1-17)
The Law vs. Faith:
"O foolish Galatians! Who has bewitched you that you should not obey the truth, before whose eyes Jesus Christ was clearly portrayed among you as crucified? This only I want to learn from you: Did you receive the Spirit by the works of the law, or by the hearing of faith? Are you so foolish? Having begun in the Spirit, are you now being made perfect by the flesh? (Galatians 3:1-3
NKJV)
Being Accounted Righteous:
"Therefore, He who supplies the Spirit to you and works miracles among you, does He do it by the works of the law, or by the hearing of faith? — just as Abraham "believed God, and it was accounted to him for righteousness" (Galatians 3:5-6 NJKV).
Curse of the Law:
"For as many as are of the works of the law are under the curse; for it is written, "Cursed is everyone who does not continue in all things which are written in the book of the law, to do them." But that no one is justified by the law in the sight of G3D is evident, for "the just shall live by faith." 
"Yet the law is not of faith, but "the man who does them shall live by them" (Galatians 3:10-12 NKJV).
In Conclusion – Live by Faith:
 "Therefore, the law was our tutor to bring us to Christ, that we might be justified by faith. But after faith has come, we are no longer under a tutor" (Galatians 3:24-25 NKJV).
ReCap from November 2-2020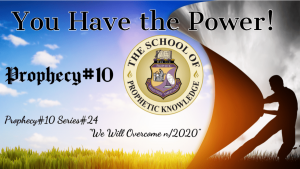 Prophecy #10
You Have the Power!
Recorded: November 2, 2020  
My Word Abides Within YOU:
"If you know My Word then You know My Ways and My Thoughts. Therefore, when you Speak on My behalf Angels hear My Word that is abiding within you. Your Words are My Words, and My Angels will Obey!
It is Written:
"If you Abide in Me, and My words Abide in you, you will ask what you desire, and it shall be done for you" (John 15:7 NKJV).
His Power Lives in You:
"When troubles are near, My Word is closer. You are My Temple and I live within you. From the depths of your heart draw upon My Word from the Wellspring of Grace flowing through you."
It is Written:
"For You are the temple of the living G3D. As G3D has said: "I will dwell in them and walk among them. I will be their G3D, and they shall be My people" (2 Corinthians 6:16 NKJV).
His Perfect Will:
"When you are in My Perfect Will your enemies cannot touch you. Do not entertain the devils lies, he only delivers fear. Our Lord says, 'I will cause your life to abound when you turn closer to Me.'"
It is Written:
"Therefore, Submit to G3D. Resist the devil and he will flee from you" (James 4:7 NKJV).
The Anointing Teaches All Things:
"Do not stress yourself worrying about being in My Will. If you know My Anointing when it comes upon you, then you will know what to do. When you follow through and do what I am asking you. Then you are in My Perfect Will; therefore, the evil one will touch you."
It is Written:
"But the Anointing which you have received from Him abides in you, and you do not need that anyone teach you; but as the same Anointing teaches you concerning all things, and is true, and is not a lie, and just as it has taught you, you will abide in Him" (1John 2:27 NKJV).
The Evil One Cannot Touch YOU!
"We know that whoever is born of G3D does not sin; but he who has been born of G3D keeps himself, and the wicked one does not touch him" (1 John 5:18 NKJV)
Prophet Kent Simpson
Prophetic Ministries Today
The School of Prophetic Knowledge
https://www.propheticministries.org/
For more prophetic media groups click here
---