Return to the Newsletter Archives
---
4th Question?
'How to Get More Faith?'
Series #28 'Sharing His Knowledge in 2022'
Recorded: May 1, 2022  
Receiving Faith
Many have heard of the Word of faith Movement and think they understand how Faith works. 
"Faith is the substance of things hoped for without the evidence of things yet seen" (Hebrews 11:1 NKJV). 
So, how do you get faith? Once you receive faith, what do you do with it? And what is expected of you to do with it? Many are looking for faith and trying to act on their faith but it comes out all wrong. Many times, it comes out bogus. It comes out as something other than G3D.
"So, then faith comes by hearing, and hearing by the word of God" (Romans 10:17 NKJV).
The "word" in the verse is not "logos" but "Rhema". It is not the written Word of G3D but The Spoken Word of G3D. It has taken the Faith Movement many years to convince the people of G3D that the written Word of G3D is the inherent True Word of G3D from Genesis to Revelation. Before the Faith Movement started manifesting showing up on the scene with very powerful preachers, there were those in the seminaries saying that the first eleven chapters of Genesis were myth. But Jesus quoted from those eleven chapters. If they were myths, then some of the things Jesus quoted would have been mythical as well. This could not be true. Now, G3D has been taking us to on another level of revealing more for the past few decades. We're going from faith to Faith.
For I am not ashamed of the gospel of Christ, for it is the power of G3D to salvation for everyone who believes, for the Jew first and also for the Greek. For in it the righteousness of God is revealed from faith to faith; as it is written, "The just shall live by faith" (Romans 1:16, 17 NKJV).
At some point, the spoken word should manifest for it to have any measure of Faith in it. But how does it manifest? Through prayer and by Faith we prophesy as Jesus has taught us; "Thy will be done on earth as it is in heaven" (Matthew 6:10a). We must find out from heaven what we are to pray or prophesy before we speak His Prophetic Word.
"Having then gifts differing according to the grace that is given to us, let us use them: if prophecy, let us prophesy in proportion to our faith" (Romans 12:6 NKJV).
Many people are struggling to find out how to get their finances in order, how to live the abundant life. They ask, "Lord, what are you going to do?" Well, you must pray, hear and obey. There are people who say they pray but they are whining and crying like little children. We have misunderstood what prayer truly is and how to go about it.
In prayer, we need to go to the Lord and say, "Lord you know my needs before I ask. Therefore, I come to ask how do I receive?" Don't expect to hear or receive your answer right away. In fact, it can take a few days before He reveals the answer. 
The Bible is not like a genie's bottle that we can rub three times and chant a scripture or two and out pops a blessing. It doesn't work that way. But if you ask the Holy Spirit to reveal to you what you need to do as you read the Holy Scriptures a word may leap from the pages and come right into your soul. Then you will know in your 'Knower' what G3D wants you to do. What good does it do to memorize scripture if you do not have it in your heart? You must know Jesus. He wants a relationship with you. He wants your problems but you must learn how to give him your problems and trust He tell you what to do about it. When faith comes, what do you think happens?
"For by grace you have been saved through faith, and that not of yourselves; it is the gift of God, not of works, lest anyone should boast" (Ephesians 2:8-9 NKJV).
Grace is unmerited favor. We did not earn our salvation. We didn't do anything to gain it. He gave it to us freely. If you go to someone who is born-again and ask them, "when you die do you think you will go to heaven?" You can't take that from them because they know in their Knower by Faith, they are His forever. They haven't seen heaven, nor been to heaven but they know they are going to heaven because of our covenant with Him. We do not earn His revelation knowledge. He gives it freely when we come to Him as babes, knowing nothing. Totally leaning upon Him and His wisdom knowing He will help us.
"For everyone to whom much is given, from him much will be required; and to whom much has been committed, of him they will ask the more" (Luke 12:48b NKJV).
The more Faith you desire the more of you will be required. For by the measure of Faith you have asked to be activated the more you will be required to do. I have a testimony that will help you understand what this scripture means to me. 
"If anyone has ears to hear, let him hear." Then He said to them, "Take heed what you hear. With the same measure you use, it will be measured to you; and to you who hear, more will be given. For whoever has, to him more will be given; but whoever does not have, even what he has will be taken away from him" (Mark 4:23-25 NKJV).
When I command a scripture to come to pass it doesn't work, why? I claimed and named the word but it did not work, why?
"For indeed the gospel was preached to us as well as to them; but the word which they heard did not profit them, not being mixed with faith in those who heard it" (Hebrews 4:2 NKJV).
Is G3D still creating new things in the world? So, can I be used of G3D to speak things into existence like He did in the beginning? 
"By faith we understand that the worlds were framed by the word of God, so that the things which are seen were not made of things which are visible" (Hebrews 11:3 NKJV).
What happens if G3D gives me faith, i.e. His Word, and I do not act upon His Word?  Will I lose my eternal salvation? What does this scripture mean "saving of the soul?"
"Now the just shall live by faith; But if anyone draws back, My soul has no pleasure in him. But we are not of those who draw back to perdition, but of those who believe to the saving of the soul" (Hebrews 10:38-39 NKJV).
So how can I increase the level of my faith?
And the apostles said to the Lord, "Increase our faith."
So, the Lord said, "If you have faith as a mustard seed, you can say to this mulberry tree, 'Be pulled up by the roots and be planted in the sea,' and it would obey you. And which of you, having a servant plowing or tending sheep, will say to him when he has come in from the field, 'Come at once and sit down to eat'? But will he not rather say to him, 'Prepare something for my supper, and gird yourself and serve me till I have eaten and drunk, and afterward you will eat and drink'? Does he thank that servant because he did the things that were commanded him? I think not. So likewise, you, when you have done all those things which you are commanded, say, 'We are unprofitable servants. We have done what was our duty to do" (Luke 17:5-10 NKJV).
Here is the answer to having your faith increased!
Do all that G3D ask of you to say and/or do without a haughty spirit and more of His Faith will be given into you.
ReCap from January 17-2021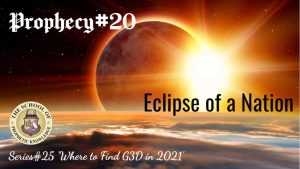 Prophecy #20
Eclipse of a Nation
Recorded: January 17, 2021  
Prophecy20-a
Eclipse: 'The period of time during which such an obscuration occurs.'
Our Lord reveals; "The Darkness slowly crept into the Young Minds within this land. It created an Absence of Light through its Obstruction. Over many years Satan's evangelism robbed the children Obstructing Truth and Light from being known."
"Now the Light is Beginning to Break Through as Truth and Light have moved the people out from behind this Evil Obstruction. As the Eclipse is Revealed it will open the eyes of all who have been Blinded by the Lies of the Darkside." 
"The Dawn of a New Era is about to be exposed. It will keep the Truth and Light beaming brightly for Ages to Come."
The Twitter Birds are singing as the Light breaks through.
It is Written:
"So, we have the Prophetic Word confirmed, which you do well to heed as a Light that Shines in a Dark Place, until the Day Dawns and the Morning Star rises in your hearts; knowing this first, that no Prophecy of Scripture is of any private interpretation, for Prophecy never came by the will of man, but Holy Men of God spoke as they were moved by the Holy Spirit" (1 Peter 1:19-21 NKJV).
Prophet Kent Simpson
Prophetic Ministries Today
The School of Prophetic Knowledge
https://www.propheticministries.org/
For more prophetic media groups click here
---