Return to the Newsletter Archives
---
*G3D is symbolism for, God the Father, God the Son & God the Holy Spirit
35th Prophetic Memoir "Kingdom of G3D"
Series #29 'A Prophet's Memoirs & Testimonials'
Recorded: May 14, 2023
Pray, Hear, & Obey
~Praying Through the Veil~
Do this, Before You Do Anything Else
"But seek first the kingdom of God and His righteousness, and all these things shall be added to you" (Matthew 6:33 NKJV).
When the Kingdom of G3D Comes Upon You
"If I, [Jesus] cast out demons by Beelzebub, by whom do your sons cast them out? Therefore they shall be your judges. But if I cast out demons by the Spirit of God, surely the kingdom of God has come upon you. Or how can one enter a strong man's house and plunder his goods, unless he first binds the strong man? And then he will plunder his house" (Matthew 12:27-29 NKJV).
Authority in the Name of Jesus
"When Jesus came into the region of Caesarea Philippi, He asked His disciples, saying, "Who do men say that I, the Son of Man, am?"
So they said, "Some say John the Baptist, some Elijah, and others Jeremiah or one of the prophets." He said to them, "But who do you say that I am?" Simon Peter answered and said, "You are the Christ, the Son of the living God."
Jesus answered and said to him, "Blessed are you, Simon Bar-Jonah, for flesh and blood has not revealed this to you, but My Father who is in heaven. And I also say to you that you are Peter, and on this rock I will build My church, and the gates of Hades shall not prevail against it. And I will give you the keys of the kingdom of heaven, and whatever you bind on earth will be bound in heaven, and whatever you loose on earth will be loosed in heaven." Then He commanded His disciples that they should tell no one that He was Jesus the Christ" (Matthew 16:13-20 NKJV).
Jesus Predicts His Death and Resurrection
21 From that time Jesus began to show to His disciples that He must go to Jerusalem, and suffer many things from the elders and chief priests and scribes, and be killed, and be raised the third day.
Then Peter took Him aside and began to rebuke Him, saying, "Far be it from You, Lord; this shall not happen to You!"
But He, [Jesus] turned and said to Peter, "Get behind Me, Satan! You are an offense to Me, for you are not mindful of the things of God, but the things of men." (Matthew 16:21-23 NKJV).
Take Up Your Cross and Follow Him
"Then Jesus said to His disciples, "If anyone desires to come after Me, let him deny himself, and take up his cross, and follow Me. For whoever desires to save his life will lose it, but whoever loses his life for My sake will find it. For what profit is it to a man if he gains the whole world, and loses his own soul? Or what will a man give in exchange for his soul? (Matthew 16:24-26 NKJV).
Prophetic Review 
Prophecy #18
Secrets Revealed
Series #25 Where to Find G3D in 2021
Recorded: Jamuary 3, 2021
Secrets Revealed (Prophecy #18) – Prophetic Ministries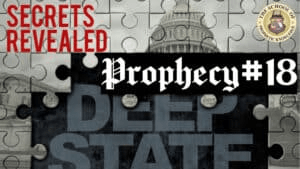 Prophecy#18-a
"The Fools Laugh believing My People cannot see what they are up too. With so many lies they have Warped Their Souls into believing their own Fake News." 
"What do you think they will do when I Flip the States from Blue to Red? Caught off guard they will begin to LIE even more, saying, "The (deplorable blank-blanks) have Stolen the Election"
"With their Sharp Tongues a wagging their Reprobate Minds will go into overdrive. Screaming (vulgar blank-blanks) with Hate Filled Eyes they will call upon their Home-Grown Terrorist to Remove the President. However, to their surprise they will come Face-to-Face with a New Wall of Red, White & Blue lined with Patriots who have Answered the Call and know what to do."
It is Written:
"And even as they did not like to retain God in their knowledge, God gave them over to a Reprobate Mind, to do those things which are not convenient; Being filled with all unrighteousness, fornication, wickedness, covetousness, maliciousness; full of envy, murder, debate, deceit, malignity; whisperers Backbiters, haters of God, despiteful, proud, boasters, inventors of evil things, disobedient to parents …" (Romans 1:28-30 KJV).
Prophecy#18-b
"Nothing is Hidden that I Shall Not be Revealed to My People who Pray and Prophecy. You have asked, 'Who is the DEEP STATE!' I shall Reveal the Wheel that Turns in the Background where all the of the Crimes, Payoffs and Public Scams are planned and executed."
"For many years this Secret Agency has been working toward bring this Nation Under God down. Stealing it from 'We the People' then planned to hand it over to the New World Order. What they fell to understand is this Nation is Under Me, says our Lord. They will first have to take it from 'We the People'. What they cannot see is that I Live Within 'WE the PEOPLE' there is no weapon formed than can overthrow them."
The Agency is called the SES, Senior Executive Services. 
What does the Senior Executive Service do? Members of the SES serve in the key positions just below the top Presidential appointees. SES members are the major link between these appointees and the rest of the Federal workforce. They operate and oversee nearly every government activity in approximately 75 Federal agencies." 
Prophecy#18-c
"All the Negative Narratives you hear echoing through the Fake News Networks comes down from SES. However, they are not the only ones who are Pushing the Buttons and handling the Puppets Strings. A number of the SES Members represent Other Countries controlling the USA for their own foreign countries best interest and reporting what happens in the Nation of 'We the People'."
"Many Years have Passed since the day I whispered into your Leader's Ear. When he heard My Word, he took it to Heart and began looking into all the areas that I pointed out to him. Because of His desire to make 'We the People' feared again I knew I could trust him. Therefore, he now is walking in the Shoes of Your Forefathers. Anointed with the same Spirit that led them to become free from their Tyranny. Hold your Faith and you will witness the unfolding of a Miraculous Event which will Launch him to leading 'We the People' for 8 More Years."
It is Written:
"Now faith is the substance of things hoped for, the evidence of things not seen" (Hebrews 11:1 NKJV).
"By faith we understand that the worlds were framed by the word of God, so that the things which are seen were not made of things which are visible" (Hebrews 11:3 NKJV).
Prophet Kent Simpson
For more prophetic media groups click here
---