RE: Apostolic Decree I Received
Hi Kent and Debbie,

This is Annie from Taiwan.

I am currently in Hong Kong. One of our elders invited Gary and I to meet a few a few intercessors from Canada. They are giving training these couple of weeks. During dinner, I introduced myself and talked about being mentored by my Apostolic Prophet from Texas.

They asked me for your name, and when I told them, instantly their faces were lite up with a big smile! Can you recognize this couple in the photo? It's Dennis and Katy from The Divine Exchange …what a small world!!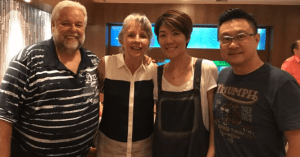 Anyways… I thought I would share it with you both. God works in wonders, and I truly embrace that we are all one family in Jesus.
Thank you for your prayers… it has given me much faith to press into God with courage.