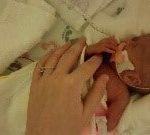 I want to give a praise report, my niece that you prayed for 14 ounces at birth had her 1st birthday January 2, now at 14 pounds and is crawling and even saying mama…. Got report she is healthy enough that she won't need a feeding tube put in her side. The little girl is a true miracle, at birth only given a 6 percent chance of survival!
I want everyone to know how great God is!! This little girl is a miracle! Even her therapists can't believe she is doing this well, for being so small at birth, similar cases these children can't even hold their head up let alone to be crawling like she is….her mother gave her the name of Avary Love…I think a fitting name ( I call her Baby Love since I got the first smile out of her while she was still in the hospital).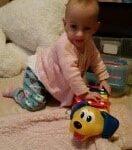 She has her own Facebook page "Believing in miracles-Avary Love, she is already recognized around town, people are amazed at her progress. She is still on oxygen and lots of medicine, but she is already displaying her own little personality. Also, I had you gave a prophesy for her before she was born, I can't wait to see it all play out in her life.