Return to the Newsletter Archives
---

When you have done all you know to do then begin seeking God for His Word.
It was in the fall of 1987. I had moved to Mesquite, Texas to take a position with Church on the Rock in Rockwall. My life was being turned upside down; everything was falling apart. I could not pay my rent; the electric company sent notice they would be shutting off my lights, and I only had $10.00 to my name. I had been praying all day, seeking God for His direction. Nothing was changing, and the hour was getting late when I heard someone at my front door. I waited for a knock, but none came, just the shuffling of feet as they walked away. I went to the door and looked around; thinking maybe God had sent help. However, as I turned to go back into my apartment I noticed a posting on my front door. As I read the note my heart sank. The notice was from the electric company saying they would be shutting off my electric the next day. It was getting dark and I began to pray even harder. I was so tired and felt as though I was getting nowhere. I was scared. Trying to get my mind off my problems, I began to read a little booklet I had received from Rhema Bible School. As I read the booklet that Kenneth Hagin Sr., the founder of the school in Broken Arrow, Oklahoma had written, I began to feel some peace in my heart. Then I read a verse of Scripture that seemed to leap straight off the page and into my spirit: "But seek first the kingdom of God and His righteousness, and all these things shall be added to you" (Matthew 6:33).
From this one verse of Scripture, my prayer changed and the heavens opened. I could hear Him clearly say, "Go to the prayer breakfast." I knew exactly where He was sending me, but I thought it's too far away and wondered if I could afford to use my last ten dollars for gas. But God was calling and I knew I had to go, so I got myself ready, jumped in my pick-up truck and spent my last few dollars fueling up my tank. When I arrived I sat out in the parking lot and waited for everyone, but only the pastor showed up. He asked how I was doing, and I told him what all was going on in my life. He just laughed and laughed. Then he pulled out a check that was already made out. He said God had told him to put it in his pocket as he was leaving his home, headed for the morning's meeting. He handed me the check and said, "This is for you!" We both then laughed and then began to praise God for bringing this blessing together. The check was enough to pay my rent and electric and to keep me going until I could collect a paycheck. The electric company did end up shutting off the electricity; however, they pulled the wrong meter. My neighbor was pretty upset.
In 1991 our ministry took a group of people in our 15 passenger van to Nacogdoches, Texas to minister in the towns Senior Citizens Hall. After praise and worship was over I brought the usual 45 minute message then the fun part began. We passed around the congregation a large basket that was full of blank audio cassette tapes for each person to take one. Those of us who came to minister formed a line across the stage with each one of us holding a tape recorder. As the people came up with their tape in hand they would stand before each one of the ministers, handing over their tape to receive a word. Everyone who came received at least 4 or more prophesies. However, I noticed there were three men on the front row who obviously did not want to be there and had refused to take a tape. With their arms crossed they sneered at us as we ministered, obviously not in agreement with what we were doing.
The last person in line was a little old woman who had waited until the end of the service to come up for a word. As I ministered to her the Holy Spirit said, "Ask her about James, James Kay and tell her he is with me." So I asked the little woman, "Who is James?" She said gruffly, "He's my husband!" Again I asked, looking for confirmation, "Who is James Kay?" Staring at me like I should know she replied, "Well, he is my husband!" Now I had all the information I needed to know I was hearing God clearly. Boldly I said, "God wants you to know James Kay is with Him!" The woman broke out in tears. Obviously James was not a very strong Christian, but she finally knew her husband would be waiting for her in heaven. Even the three angry men sitting on the front row knew James Kay and also believed there was no way I could have known James Kay except by hearing God. By the gift of the Holy Spirit, through the Word of Knowledge, I was given the words needed to bless the little old woman and make believers out of three rough-looking oil field workers.
After the services were over a group of women served sandwiches, chips and drinks. When I sat down to eat the three men rushed over and sat down right across from me and wanted to know everything about the Holy Spirit. That night was my first Prophetic Evangelistic experience as recorded in First Corinthians 14:24,25:
"But if all prophesy, and an unbeliever or an uninformed person comes in, he is convinced by all, he is convicted by all. And thus the secrets of his heart are revealed; and so, falling down on his face, he will worship God and report that God is truly among you."
1 Corinthians 14:24,25
Did you miss last week's story – "Fish Bait Prophecy"
Read Article Now »
You can now catch previous stories in our
PREVIOUS WEEKS NEWSLETTERS »
Kent Simpson, Prophetic Pastor
aka,"The Mail Order Prophet"
www.PropheticMinistries.org
Comments and Testimonies
Then Jesus said to him,
"Unless you people see signs and wonders, you will by no means believe."
John 4:48
Prophecy is the testimony that Jesus is not dead but Alive and Speaking to you and I.
Kent Simpson,
Prophetic Pastor
---
Dear Prophet of God,
Thank you very much for the word of the Lord that came by email. I followed the advice given about keeping it safe.
I wish to enroll as a student of prophecy more so that I am called in this office to be able to acquire knowledge and understanding of the functionality of the office.
Thank you very much,
Annah
---
Thank you so much for the word absolutely shook me in my spirit and I am just overcome in the Spirit of the Lord may the Lord bless you and keep you may his face shine upon you bring you peace God bless.
Latshia
---
Many thanks for the powerful personal prophecy sent to me.
I am lost of words and hope that the Lord will continue to move your ministry to the next level.
The prophetic words have given me Authority to stand firm and be still while I focus on the Father to lead me.
However, what I need to know is, if there is a calling on me, in what area has the Lord called me. I need to know my prophetic gift so that I can build on it.
Once again many thank for the prophecy.
Regards,
Francis
Read more Testimonials »
---
Join Our Prophetic Ministry & learn to operate in your prophetic gifts with the help of The School of Prophetic Knowledge.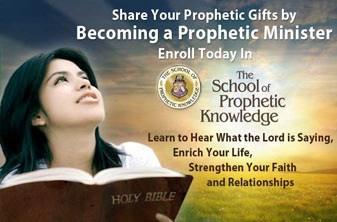 Whether you are looking for a way to deepen your relationship with God or you have a desire to share your prophetic gifts with others, Prophetic Ministries Tabernacle's School of Prophetic Knowledge has much to offer.
For starters, our staff at Prophetic Ministry Tabernacle and the gifted Prophetic Ministers participating in our ministry are friendly and helpful in providing support and guidance in your passion to minister to people in need. As you can see from from our website, we offer many resources to help you establish your internet ministry. Below are the steps which can help prepare you on your journey to becoming a Prophetic Minister.
The training DVD's will provide many hours of rich, encouraging and inspirational lessons to help take you to the next level of your relationship with God. But don't take our word for it, come see for yourself.
During your training, you will receive one-on-one instruction and oversight from Kent Simpson as you begin to reach out and operate in your prophetic gifts. So many people are needing a clear word from God. This is your opportunity serve God as a vessel for Him to speak through.
Becoming an Internet Prophetic Minister provides the perfect opportunity for you to win souls for Jesus.
Begin Today:
Step 1 – Enroll in the School of Prophetic Knowledge
Here's How:
Obtain the full Set of Prophetic Teaching DVD's
Complete Individual Study Guide for Each DVD
Make the Decision to Build Your Ministry Alongside PMT's Prophetic Ministers
Contact Pastor and Prophetic Minister Kent Simpson to Confirm Completion of Study Materials
Step 2 – Sign-up for One-on-One Prophetic Ministry Training
Here's How:
Make Your Financial Pledge to Become a Prophetic Family Partner
Begin Your One-on-One Training with Kent Simpson
Participate in the Prophetic Ministry Outreach
Step 3 – Build Your Ministry and Get on Board with PMT
Here's How:
Promotion to the Next Level – Listed as One of PMT Ministers in Training Prophesying on our latest web site FreePersonalProphecy.org
Offering Yourself as One of God's vessels to Speak through Receiving Offerings for your Ministry on our Newest website that is presently under construction GodHasAWordforYou.org
Receive 100% of All Contributions to Your Ministry Under the Banner of PMT 501(c)3 Status
For more prophetic media groups click here
---