Return to the Newsletter Archives
---

Everyone assumes they can tell the difference between an angel of the Lord and a fallen angel of Satan. I have found that it is easy to miss the presence of the angelic host of God. When they go unnoticed they depart, leaving you without direction. We are led by the Holy Spirit, as He appoints His angels (ministering spirits) to direct us. In order to properly discern the will of God, you must be very sensitive to the ministering spirits appointed to you. If you provoke one of these appointed angels, you can leave yourself wide open for a demonic attack.
"Behold, I send an Angel before you to keep you in the way and to bring you into the place which I have prepared. Beware of Him and obey His voice; do not provoke Him, for He will not pardon your transgressions; for My name is in Him. But if you indeed obey His voice and do all that I speak, then I will be an enemy to your enemies and an adversary to your adversaries" (Exodus 23:20-22).
God will never leave you nor forsake you, but you can quench the Holy Spirit, causing Him to withdraw His protective angels.
When ministering, it is very important not to quench the Spirit. I cannot express the importance of how careful you must be not to transgress the ministering spirits that are appointed to minister for you. It is a frightening thing to stand before a group of people telling them you are going to hear God for them, and then the spirit of prophecy not to be there for you.
"And I fell at his feet to worship him (the angel). But he said to me, 'See that you do not do that! I am your fellow servant, and of your brethren who have the testimony of Jesus. Worship God! For the testimony of Jesus is the spirit of prophecy'" (Revelations 19:10).
Many have interpreted this scripture in different ways; I will share with you what the Holy Spirit said to me in regards to its meaning. In the last line I quote "For the testimony of Jesus is the spirit of prophecy." The Holy Spirit said to me, "It is not one's personal testimony that is the spirit of prophecy; but the spirit of prophecy is the testimony revealing that Jesus is not dead but alive for He is speaking to you and me." Through the prophetic gifts we know many things about Him and what He is revealing about each one of us.
It only takes one blasphemous word or deed to cause the spirits of our heavenly Father to leave you vulnerable to satanic attacks. Not only do you have to mind your manners in the presence of the ministering spirits, but the people must be in line with his desires as well. Keep watch over your thoughts or deeds, otherwise the spirits of our heavenly Father will leave you high and dry.
"Furthermore, we have had human fathers who corrected us, and we paid them respect. Shall we not much more readily be in subjection to the Father of spirits and live?" (Hebrews 12:9).
I recall back in early 1995, I was ministering in a church of about two hundred and fifty good old country folks. During those days, I did not know that the Lord would show you whom to call out of a crowd to receive a word of prophecy, so I would just have everyone in the building that wanted a word form a single line at the altar. I would minister until everyone who wanted a word had received one. Now this could take hours. The longest period of time I have ministered non-stop is five and a half hours. That's without any kind of break at all; no water, no sitting down, and no stopping. With the supernatural strength of the ministering spirits, you do not have any physical needs; you are caught up in the realm of the spirit.
"Do you not know that we shall judge angels? How much more, things that pertain to this life?" (I Corinthians 6:3).
Now, after I had delivered my sermon I offered the people in this little country church to line up if they wanted a word from God. I did not really think many would believe I could hear God for them, because none of them had even heard of me. To my surprise, everyone in the building that I could see jumped into formation ready to receive.
After ministering to the first hundred or so, from the corner of my eye I saw a bright light flash by and depart from the Sanctuary. I stopped ministering and turned to the Pastor and Elders who were standing right behind me. I said, "Someone has grieved the Holy Spirit and the spirit of prophecy has left the building. I cannot minister anymore here today. I am sorry."
The crowd was confused and the Pastor and Elders began questioning me about what had happened. I told them that the last person I had ministered to caused the angel to depart. They said, "It couldn't have been this person. He is very sensitive to the Holy Spirit. It had to be the person you ministered to right before him because she is not living right." I knew who had offended the messenger of God and it was not the person who the Pastor and Elders thought it was.
Six months later, I received a call from the Pastor and he had a report for me. He reported that last Sunday morning the person I had said offended the angel of the Lord came before the congregation. He confessed he had believed my ministry was not of God and asked the people for forgiveness for being wrong. Since then I have ministered to that same congregation more than ten times, and our Lord has given life-changing prophetic words. To this day many of the people have remained partners and a few have become very close friends.
The manifestation of the gifts of the Holy Spirit is a sign from God that He is alive and watching over us. You may have never thought of it this way. I learned this truth from the Holy Spirit.
Angels are ministering for us as we operate in these gifts. When you are slain in the spirit it can feel like someone physically pushed you down or clipped you from behind the knees. It is an Angel of the Lord that is doing the work of the Holy Spirit. Have you noticed that some ministers demonstrate more of the gifts in their ministry than others?
The reason is that they have more angels appointed to them than some of the other ministers. When ministering you begin to recognize the different presence of the various angels. This is one way how we know what gift the Holy Spirit will have you to operate in next. The presence of the ministering spirit that slays people in the Holy Ghost is different from that of the ministering spirit that brings the gift of healing. There are various gifts and ministry functions imparted by God and are appointed to different people. One of these functions is the gift of healings, not healing but HEALINGS; it is plural.
"And God has appointed these in the church: first apostles, second prophets, third teachers, after that miracles, then gifts of healings, helps, administrations, varieties of tongues" (I Corinthians 12:28).
There are angels that have different powers over disease and sickness, just as Gabriel had different powers than Michael, the arch angel. I have seen people get frustrated and turn from using the gift God has given them because they did not understand this valuable revelation. At times they would pray for the sick and they would be healed and other times they would not. Out of frustration, they gave it up altogether. A lot of the time the reason why some were healed and others were not is because their ministering spirit only had power over certain illnesses, afflictions or infirmities.
We are to perfect the gift by using it until we find out the measure of its power. We are given to minister God's love through His saving grace for Jesus said, "They will not believe except they see signs and wonders" (John 4:48).
What power does the ministering spirit have that is appointed to you?
To experience the accuracy of any gift you must first find out what your calling is all about. When you know your calling and begin following its course then you can focus on your gift. Most people want to just move in their gift, but do not have a clue as to what they are called to do. If you do not follow your calling, your angel is not obligated to minister for you, hence no manifestation of the gifts.
Your calling may be evangelism, teaching faith, hearing God, feeding the poor, helping orphanages or visiting prisoners. Whatever you are called of God to do, He is faithful to endorse it by signs and wonders following after you. However, if we are not willing to do what God has called us to do His Angels will not minister for us. Once you have clarity of what your calling is then do it and stick with it; in doing so you will experience the continual flow of the gifts.
"But to which of the angels has He ever said, 'Sit at My right hand, till I make Your enemies Your footstool? Are they not all ministering spirits sent forth to minister for those who will inherit salvation?'" (Hebrews 1:13, 14).
When dealing with the prophetic, angels are vital parts in seeing the word delivered with power. Angels are sent to signify and clarify what God's purpose is for His people and to witness to the lost and uninformed people.
The book of Revelation was given to John by an angel. Prophets of today cannot deny that prophecy, words of knowledge, words of wisdom are given to them in part by angels. To deny that His angels are speaking to us today would be to say that the Holy Scriptures are a lie.
"The Revelation of Jesus Christ, which God gave Him to show His servants; things which must shortly take place. And He sent and signified it by His angel to His servant John, who bore witness to the word of God, and to the testimony of Jesus Christ, to all things that he saw. Blessed is he who reads and those who hear the words of this prophecy, and keep those things which are written in it; for the time is near" (Revelation 1:1-3).
"Then he (the angel) said to me, "These words are faithful and true." And the Lord God of the holy prophets sent His angel to show His servants the things which must shortly take place" (Revelation 22:6). "I, Jesus have sent My angel to testify to you these things in the churches. I am the Root and the Offspring of David, the Bright and Morning Star" (Revelation 22:16).
Did you miss last week's story – What about the Gift of Tongues?
Read Article Now »
You can now catch previous stories in our
PREVIOUS WEEKS NEWSLETTERS »
Kent Simpson, Prophetic Pastor
aka,"The Mail Order Prophet"
www.PropheticMinistries.org
Comments and Testimonies
Then Jesus said to him,
"Unless you people see signs and wonders, you will by no means believe."
John 4:48
Prophecy is the testimony that Jesus is not dead but Alive and Speaking to you and I.
Kent Simpson,
Prophetic Pastor
---
Hi Kent,
THANK YOU for the right-on word for my politician friend and his wife. (please note I am not naming them as there are so many enemies in a politician's life) They called me and we talked for over an hour about what you told them. About half of what you said I have been telling them in prophetic words over the last 6 years. They really trusted you when you said things I had already told them; and then you said MANY things that we didn't know and that got us really excited and rejoicing over His goodness to take such good care of them, warning them about their enemies' plans and how the Lord would deal with those people in the end and bless their ministry in politics. You are in my prayers. I appreciate the price you have paid to be prophetic forerunners. May God richly bless you!!!
(Cannot Publish Name)
---
Hello Pastor Kent!
I just want to thank you for my personal prophecy. It was completely in line with what the spirit of the Lord had spoken to me. It was all a confirmation.
The prophecy gave me complete understanding of some things I had been experiencing over the years. I keep listening to it over and over again so that it can truly settle in my spirit. May the Lord continue to use and bless you!
Be Blessed!
Yano
---
Aloha Pastor Kent! Mahalo for your friend request you sent.
Also, so glad you were able to reconnect with Pastor Vince on Maui! I'd like to thank you for the prophecy you emailed Ben several days ago! Absolute confirmation and no doubt whatsoever that God was truly speaking through you to us! Best part I loved…you knew nothing of us and God was very specific!
God bless and Love to you and your ohana! 🙂
Read more Testimonials »
---
Join Our Prophetic Ministry & learn to operate in your prophetic gifts with the help of The School of Prophetic Knowledge.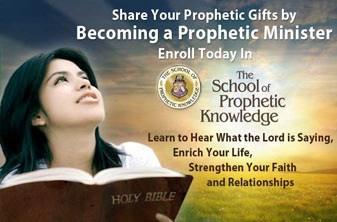 Whether you are looking for a way to deepen your relationship with God or you have a desire to share your prophetic gifts with others, Prophetic Ministries Tabernacle's School of Prophetic Knowledge has much to offer.
For starters, our staff at Prophetic Ministry Tabernacle and the gifted Prophetic Ministers participating in our ministry are friendly and helpful in providing support and guidance in your passion to minister to people in need. As you can see from from our website, we offer many resources to help you establish your internet ministry. Below are the steps which can help prepare you on your journey to becoming a Prophetic Minister.
The training DVD's will provide many hours of rich, encouraging and inspirational lessons to help take you to the next level of your relationship with God. But don't take our word for it, come see for yourself.
During your training, you will receive one-on-one instruction and oversight from Kent Simpson as you begin to reach out and operate in your prophetic gifts. So many people are needing a clear word from God. This is your opportunity serve God as a vessel for Him to speak through.
Becoming an Internet Prophetic Minister provides the perfect opportunity for you to win souls for Jesus.
Begin Today:
Step 1 – Enroll in the School of Prophetic Knowledge
Here's How:
Obtain the full Set of Prophetic Teaching DVD's
Complete Individual Study Guide for Each DVD
Make the Decision to Build Your Ministry Alongside PMT's Prophetic Ministers
Contact Pastor and Prophetic Minister Kent Simpson to Confirm Completion of Study Materials
Step 2 – Sign-up for One-on-One Prophetic Ministry Training
Here's How:
Make Your Financial Pledge to Become a Prophetic Family Partner
Begin Your One-on-One Training with Kent Simpson
Participate in the Prophetic Ministry Outreach
Step 3 – Build Your Ministry and Get on Board with PMT
Here's How:
Promotion to the Next Level – Listed as One of PMT Ministers in Training Prophesying on our latest web site FreePersonalProphecy.org
Offering Yourself as One of God's vessels to Speak through Receiving Offerings for your Ministry on our Newest website that is presently under construction GodHasAWordforYou.org
Receive 100% of All Contributions to Your Ministry Under the Banner of PMT 501(c)3 Status
SEND FOR YOUR DVD'S RIGHT NOW »
For more prophetic media groups click here
---