Return to the Newsletter Archives
---

Elisha, Prophet Elijah's protégé, was given a double portion of the same anointing he ministered under. Before Elijah was taken up in a chariot of fire, he prophesied and imparted a double portion of his prophetic anointing into Elisha. One of the spiritual gifts that Prophet Elisha operated in was the gift of being transported in the spirit to a desired location, transcendence by the Spirit of God. He was able to hear and see what was being planned in the distant and secluded chambers of his enemies.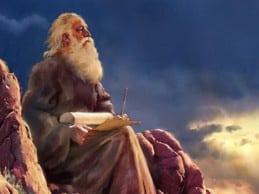 "Now the king of Syria was making war against Israel; and he consulted with his servants, saying, "My camp will be in such and such a place." And the man of God (Elisha) sent to the king of Israel, saying, "Beware that you do not pass this place, for the Syrians are coming down there." "Then the king of Israel sent someone to the place of which the man of God had told him. Thus he warned him, and he was watchful there, not just once or twice." (many times)
"Therefore the heart of the king of Syria was greatly troubled by this thing; and he called his servants and said to them, 'Will you not show me which of us is for the king of Israel?'" "And one of his servants said, 'None, my lord, O king; but Elisha, the prophet who is in Israel, tells the king of Israel the words that you speak in your bedroom'" (2 Kings 6:8-12).
We find in the New Testament that Apostle Paul would sometimes reveal in his writings that he knew in HIS SPIRIT what was taking place in the congregation. Furthermore, he would give details as to what he was seeing and hearing then he would instruct or rebuke the leaders.
My desire is to shed some light on how the Holy Spirit can take us from a young age and begin to lay the foundation for the gift to be manifested within us. I believe it is possible you have this gift lying dormant within you. It is my prayer that what I am about to expose will stir and activate the same gift within you. Every gift has a beginning point in your life. This very well could be the day that your gift will be loosed and will become an active spiritual gift working on your behalf.
The Hole in the Floor
There was a time when I was about 5 or 6 years old when my parents had to call a plumber out to our house to work on the pipes. As I watched the plumber going back and forth to his truck to get tools, I noticed he kept going to my Mom and Dad's closet and then he would disappear. I was a bit frightened and did not know what to think about this, so I began to ask God what was going on. Sensing His peace, I began to calm down. When the plumber was finished and left the house I gathered up my nerve to go look in the closet. After about the third attempt at opening it, I finally pried open the door and all I could see on the floor were shoes and my Dad's bowling ball bag. I wondered where the plumber was disappearing to in this closet. It was very small, and I could see no other doors.
Then our Lord said, "Look at the floor." Looking down at the wooden floor, I noticed that the lines in between the boards did not line up on the side of the closet. This was my sign that I was getting closer to finding out the answer to this mystery. After taking out all the shoes and Dad's heavy bowling ball bag I could see the outline of the door in the floor. In the door there was a round hole about the size of a quarter. I leaned over and placed my eye over the hole, but I could only see darkness.
The Holy Spirit then instructed me to put two of my little fingers in the hole and pull it up. The door was heavy but I managed to get it open. All I could see underneath was dirt and a few boards. A little disappointed, I started to walk away, but the Holy Spirit stopped me and said, "Look again." This time, as I got down on my knees and leaned over I caught myself, shocked at what was happening. With my hair standing straight out all over my head I was hanging on for dear life. I was caught up in the air high above the city like I was flying. I could see the cars moving and the buildings lining the streets. One of the buildings, I noticed, was my parent's furniture store. Quickly, I rose up to catch my breath and turned to look away. When I looked back to see more of the scene; it had all turned back to dirt and boards.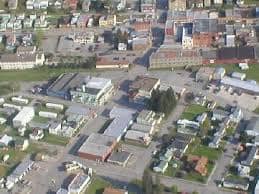 "What was that all about?" There was nothing but silence. The Holy Spirit said nothing. For more than 30 years I would think about that day. Each time I would ask the Holy Spirit why He let me have this strange and frightening experience He would say nothing. In fact, I did not receive my answer regarding this experience until I was 36 years old. That is when the Holy Spirit brought back to my remembrance the day I looked through the hole in the closet floor. Little did I know, He was preparing me to receive a gift that has been a major help to me and those who have had a need for someone to be the fly on the wall, so to speak.
What is Being Transcended?
Encarta Dictionary says it means to "go beyond limit, to go beyond a limit or range, e.g. of thought or belief, surpass something, to go beyond something in quality or achievement, be independent of world, to exist above and apart from the material world"(Encarta Dictionary).
This one childhood experience was for a purpose, and I was about the find out what it was all about. It was 1987. I had resigned my position as a bank president and there were matters of litigation that needed to be cleared up. The owners of the bank were involved in some major legal troubles, and I was clueless as to what they were trying to do, which created an awful atmosphere of tension and pressure. I had been asked to meet with a group of eight lawyers each morning at the D/FW International Airport in a meeting room that looked like a swank corporate boardroom.
The first morning we met I discovered that I was being set up to take a huge financial fall, and these attorneys were sent to try to entrap me, to present falsified evidence showing that I had broken the bank. As I returned to my home in Fort Worth, Texas I began to pray a prayer of fear.
You know that feeling when you are so scared you do not have the ability to pray with faith because you have not heard God tell you He was going to take care of the problem? I could go get my Bible and find someone else's word and claim it for myself, but I knew from experience I needed to hear my own personal word from Him directly.
Finally, that night after I had tried and failed to eat dinner He called me out to the garage. He said, "Follow me. I will show you the way out." I did not understand. I jokingly thought to myself that I knew how to get out of the garage. He told me to open the file cabinet and led me to the documents I had in various files. Then He said, "You will need these tomorrow in the meeting." All of a sudden, it was like I was standing in a hotel room and men were talking in the adjoining suite. I looked around the corner and it was the same attorneys which I had been meeting. They were discussing what they were going to try and do the next day to entrap me; it was then I knew why the Holy Spirit had led me to take the documents I had in my hands.
The next morning, I greeted the attorneys with a hardy handshake and gave each one my smile of victory. It did not take long before they started pulling out documents for me to look over. They wanted me to agree that I had signed off on the loans, as well as other business deals I had been working on outside the bank. One of these businesses was a partnership formed to build a shopping center; I was the lead man on this venture.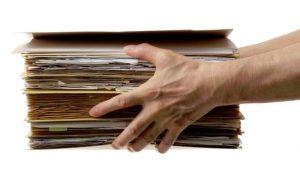 They asked me if the personal financial statement I had submitted to the partnership for financial security was correct. I said it was, but that it had been changed, and I did not approve or make the changes. They were trying to say that my personal financial statement was fraudulent and that I needed to justify where the numbers and assets were located.
In one part of the statement I noticed where I had listed a 1987 Merc (Merc was short for a Mercury automobile) they took the liberty to add – edes Benz, which was far more expensive. After I proved once again that they were corrupt, the lawyers began to press harder. They were hot under the collar after I pulled out the original financial statement that was signed and dated exactly as their copy without the erroneous additions. Each and every evening before I was to be grilled, the Holy Spirit would lead me to the garage then transcend me in the Spirit to the lawyer's hotel room, allowing me to see and hear what I needed to know before the next morning. After going over 115 false documents that they had planned to submit as evidence to frame me, they had failed miserably. This gift from the Holy Spirit was the secret weapon that gave me the upper hand to put these eight lawyers back on their heels. I did not need an attorney for the counsel of the Lord was more than enough.
---
Pastor Gary Langley Introduces Prophet Kent Simpson
You can now catch previous stories in our
PREVIOUS WEEKS NEWSLETTERS »
Kent Simpson, Prophetic Pastor
aka,"The Mail Order Prophet"
www.PropheticMinistries.org
---

Comments and Testimonies
"….Believe in the Lord your God, and you shall be established; believe His prophets, and you shall prosper."
2 Chronicles 20:20
---
I have had the privilege of reading your email on the prophets and apostles. I'm currently in the process of being pruned, or at least intuit God training me. My experience, as you've stated, is almost entirely a mental exercise. I've come to the blessed conclusion that a majority of the angst that I experience comes from my own resistance of what is. Another wonderful epiphany has been that I don't need to understand why life is unfolding the way it is. The better question is do I trust it. My friend Tom Hayden was who brought your email to my attention. I'm thankful he did. It's not often that I get to read about things that I contemplate. What a joy it's been to know of others doing their part to enable God's will to be made manifest.
Thank you Mr. Simpson for your words! They were food for my soul.
Heather
---
Kent Simpson prophetic word Jan 16 Elijah list A WOW RE: Birthing in the New Year 2014
Please pass on to Mr. Kent Simpson, regarding prophetic word "Birthing in the New Year"-'I am preparing you for something big', I read January, 16 on Elijahlist.com.
Please tell him thank you so, so very much for his obedience in thus word. This was a letter written to me by our Heavenly Father through Kent. In sure it was foe mire than me, but it was for me. I sobbed the entire time I was trying to read it, not from sadness but with joy and revelation. It was filled with answers for me and a whole lot of love.
Laugh out loud. Just thank you, thank you.
I pray strength, vision, encouragement, and graciousness on you my friend and brother in Christ
Have a super blessed day.
Sincerely, Judy
---
Hi Prophet Kent,
RE: Personal Prophesies
I just want to say thank you very much for hearing God for me. I've requested several personal prophecies from you dating back to as early as April 2000.
In five of the prophecies that you gave me between 2003-2005, you specifically spoke how I was going to meet the man that God has for me and giving me the signs that would lead to the appearance of the man. Well, the signs that you have given me indeed came to pass one after another and I am already engaged to that person. But God spoke to me also about waiting for His timing. There's one more sign that I am waiting for to manifest before we will get married.
I Would just like to say thank you very much from the bottom of my heart for stepping out in faith to hear from God for others. You are a true prophet of God.
Please continue to pray for my relationship with Rick to be strengthened; protected and anointed by God and that we would have a marriage that will fulfill God\'s destiny for our lives.
You can post this testimonial but I would request that my name be anonymous.
God richly bless you!
Love, J
---
Join Our Prophetic Ministry & learn to operate in your prophetic gifts with the help of The School of Prophetic Knowledge.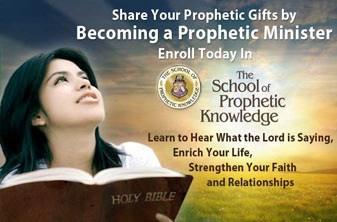 Whether you are looking for a way to deepen your relationship with God or you have a desire to share your prophetic gifts with others, Prophetic Ministries Tabernacle's School of Prophetic Knowledge has much to offer.
For starters, our staff at Prophetic Ministry Tabernacle and the gifted Prophetic Ministers participating in our ministry are friendly and helpful in providing support and guidance in your passion to minister to people in need. As you can see from from our website, we offer many resources to help you establish your internet ministry. Below are the steps which can help prepare you on your journey to becoming a Prophetic Minister.
The training DVD's will provide many hours of rich, encouraging and inspirational lessons to help take you to the next level of your relationship with God. But don't take our word for it, come see for yourself.
During your training, you will receive one-on-one instruction and oversight from Kent Simpson as you begin to reach out and operate in your prophetic gifts. So many people are needing a clear word from God. This is your opportunity serve God as a vessel for Him to speak through.
Becoming an Internet Prophetic Minister provides the perfect opportunity for you to win souls for Jesus.
Begin Today:
Step 1 – Enroll in the School of Prophetic Knowledge
Here's How:
Obtain the full Set of Prophetic Teaching DVD's
Complete Individual Study Guide for Each DVD
Make the Decision to Build Your Ministry Alongside PMT's Prophetic Ministers
Contact Pastor and Prophetic Minister Kent Simpson to Confirm Completion of Study Materials
Step 2 – Sign-up for One-on-One Prophetic Ministry Training
Here's How:
Make Your Financial Pledge to Become a Prophetic Family Partner
Begin Your One-on-One Training with Kent Simpson
Participate in the Prophetic Ministry Outreach
Step 3 – Build Your Ministry and Get on Board with PMT
Here's How:
Promotion to the Next Level – Listed as One of PMT Ministers in Training Prophesying on our latest web site FreePersonalProphecy.org
Offering Yourself as One of God's vessels to Speak through Receiving Offerings for your Ministry on our Newest website that is presently under construction GodHasAWordforYou.org
Receive 100% of All Contributions to Your Ministry Under the Banner of PMT 501(c)3 Status
SEND FOR YOUR DVD'S RIGHT NOW »
---

The Fastest Way to Get Your Personal Prophecy
For a personal prophecy sent to your email inbox, please send a tax-deductible offering of 30.00 US dollars. You will receive your prophecy in 10 business days or less attached to your audio email in a MP3 format compatible with Microsoft Media Player.
Business days are Monday-Friday and Holidays are not included; if we experience an unplanned surge of requests we will notify you of any delays.
NOTICE to MAC USERS:
Your Prophecy will be attached as an audio email file in Microsoft Media MP3 format compatible with Microsoft Media Player, Macs, iPhones and iPads can download an APP from Apples App Store for FREE to play all Microsoft Media files.
The file will be virus free and available for you to download to your computer for immediate playback or to save on your hard drive. You can even burn a copy to your own CD.
PayPal Users
---

Online Prophecy on CD or Cassette Tape
If receiving your prophecy via audio email MP3 is not feasible, we can send you an audio tape or CD by first class mail**.
PayPal users please choose the country of your location:
---
Become an Internet Master
To enroll in The School of Prophetic Knowledge
request the complete set of 12 DVDs and Study Notebook for a one time offering. With so many changes taking place in the world today we all need to know what is happening in the realm of the spirit. All the answers of the universe are within us. For if Christ lives within you, you have the ability to know all things. The challenge is how to get this information from your spirit to your mind.
Prophetic knowledge is the key to helping you receive clear interpretation of what God is saying to you. This 12 DVD course will help you plan for your ministry and family's future by knowing what is around the corner for tomorrow.
The first step to starting your ministry. Your Ordination Papers and Ministry License are Included at NO extra charge. Have Questions email us at PMTkent@aol.com
For International Orders go to: School of Prophetic Knowledge: in English Only
PMT is a 501(c)3 Tax-Exempted Non-profit Corporation
---

Become a Prophetic Family Partner Today
What is Prophetic Counseling?
There is a difference between receiving Prophetic Counseling vs. Personal Prophecy.
When giving prophetic guidance and counseling it helps to know more about the person. The difference is when you receive a prophetic word from God He is telling you what He wants to say. When I am ministering in prophetic counseling He is giving me answers to what you need to know and what to do in order to receive the results you are looking for. When emailing or visiting over the phone most of the time God gives me the answers within seconds, if they are warranted questions. My understanding of this scripture below is different than what the Word of Faith movement taught me:
Matthew 18:20
"For where two or three are gathered together in My name, I am there in the midst of them."
Anytime I am with someone or chatting via email or other ways I am listening to what God has to say. The is a totally different understanding of this verse rather than what Word of Faith has been teaching over the years; "Whatever we agree upon it will come to pass" one major flaw is the one person left out of this formula, GOD!
The partnership level between being a Prophecy Partner and that of being a Family Partner are different and one does not automatically cover the requested offering for the other.
What do Prophetic Family Partner's Receive?
Prophetic Counseling
Learning How to Know God's Will
Making Business Decisions
Working Out Family Problems
DVD of the Month Ministry Gift
2 Prophetic Teachings on CD
Prophetic Prayer & Counseling
Personal Training on How to bHear the Voice of God
Kent Simpson's Private Mobile Number
PayPal users, please choose the country of your location:
---

I Want to be Your Prophetic Pastor
In the past, I spent much of my time traveling to other countries, but ministering in distant places left me drained. I have decided to hang up my traveling shoes and focus upon those families who regularly support this ministry. It is time for me to develop long term relationships with the people who have a real desire to learn more about what God is doing today.
Since 1989, I have ministered to over 120,000 people via prophecy as of May 1995. I receive hundreds of prophecy requests each year and I will continue to send out personal prophecy via Audio Email and on CD's to those who are seeking God.
In addition to the prophetic gift God has given me, the Lord has also directed me to become a Prophetic Pastor to those who will receive me. In this new capacity, I can sew prophetic seeds into the lives of those who want to prosper with me. If you will allow me to be your Prophetic Pastor, I will commit to be there for you, and help you prosper in spiritual and financial health and wealth.
In recent years, it has become almost impossible to reach me; my home telephone rings day and night. For this reason, I have started the Family Partners Telephone Access Card. The Access card allows Family Partners to reach me during times of trouble or when having difficulty finding God's will when making tough decisions. When you use the Access card, I will seek God's direction for you and help determine how God wants to meet your immediate needs.
"Beloved, I pray that you may prosper in all things and be in health, just as your soul prospers."
3 John 2
In HIS service,
Kent Simpson,
Prophetic Pastor
---

Receiving Your Personal Prophecy
Though a prophet may receive a monetary blessing when giving a person a word from God, he is not to be mistaken for a hireling. A prophet who is a hireling will give a false prophecy at the request of his financial provider for monetary gain.
In contrast to these false prophets, there are men of God who desire to only speak God's words and to reveal God's plans for the people. These men receive their spiritual blessing from God and their financial blessing from God' people.
Old Testament Times
In the Old Testament we find that the Lord commanded Samuel, a prophet of God, to prophesy over a young man who would be coming his way around lunchtime. The Lord indicated that this young man's name was Saul and he would be looking for his father's lost donkeys.
As Saul and his servant wandered around looking for the lost donkeys, the servant spoke up and said, "Look now, there is in this city a man of God, and he is an honorable man; all that he says surely comes to pass. So let us go there; perhaps he can show us the way that we should go."
I Samuel 9:6
Today's Spiritual Guidance
As it was in the Old Testament it is today; it is not evil to seek a prophet for spiritual guidance or direction from God.
Then Saul said to his servant, "But look, if we go, WHAT SHALL WE BRING THE MAN? For the bread in our vessels is all gone, and there is not a present to bring to the man of God. What do we have?"
I Samuel 9:7
Then Saul's servant said, "Look, I have here at hand one fourth of a shekel of silver. I will give that to the man of God, to tell us our way."
I Samuel 9:8
In this and other scriptures throughout the Bible, God has shown us that we must support his prophets. These men of old had conviction that they must bless the prophet, Samuel, for his intercession. God wants His people to be cheerful in giving.
"But this I say: He who sows sparingly will also reap sparingly, and he who sows bountifully will also reap bountifully. So let each one give as he purposes in his heart, not grudgingly or of necessity; for God loves a cheerful giver."
II Corinthians 9:6,7
You Can Receive Your Own Personal Message From God!
Prophet Kent of Prophetic Ministries Today can provide you with a personal audio tape or CD message.
Prophet Kent of Prophetic Ministries Today can provide you with a personal audio tape or CD message.
A prophetic message will include one or more of the following:
Word of Knowledge – confirms revelation which reveals past or present situation.
Word of Wisdom – conditional revelation which requires doing something for it to be realized.
Prophecy – revelation of things to come with or without one's faith.

For more prophetic media groups click here
---