Return to the Newsletter Archives
---
*G3D is symbolism for, God the Father, God the Son & God the Holy Spirit
37th Prophetic Memoir "Mountain Moving Faith"
Series #29 'A Prophet's Memoirs & Testimonials'
Recorded: May 28, 2023
~Without Faith it is Impossible to Please G3D~
By His Word in Faith
"By faith we understand that the worlds were framed by the word of God, so that the things which are seen were not made of things which are visible" (Hebrews 11:3 NKJV).
Prayer of Faith?
"Is anyone among you sick? Let him call for the elders of the church, and let them pray over him, anointing him with oil in the name of the Lord. And the prayer of faith will save the sick, and the Lord will raise him up. And if he has committed sins, he will be forgiven" (James 5:14-15 NKJV).
Knowing by Faith
"Suddenly, a woman who had a flow of blood for twelve years came from behind and touched the hem of His garment. For she said to herself, "If only I may touch His garment, I shall be made well." But Jesus turned around, and when He saw her He said, "Be of good cheer, daughter; your faith has made you well." And the woman was made well from that hour" (Matthew 9:20-22 NKJV).
Special Celestial Faith 
"Then Jesus answered and said, "O faithless and perverse generation, how long shall I be with you? How long shall I bear with you? Bring him here to Me." And Jesus rebuked the demon, and it came out of him; and the child was cured from that very hour."
Then the disciples came to Jesus privately and said, "Why could we not cast it out?" So Jesus said to them, "Because of your unbelief; for assuredly, I say to you, if you have faith as a mustard seed, you will say to this mountain, 'Move from here to there,' and it will move; and nothing will be impossible for you. However, this kind does not go out except by prayer and fasting" (Matthew 17:17-21 NKJV).
Prophetic Review 
Prophecy #24
My Sword is Your Word
Series #25 'Where to Find G3D in 2021'
Recorded: February 14, 2021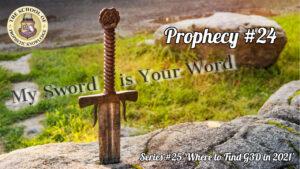 Prophecy#24-a
Our Lord is saying, "The spirit of darkness is moving at great speed with malice to destroy this Nation that bears My Name. 'Your Words are My Words', says our Lord. Do not hold your Tongue for now is the Time to Prophesy. From your Place of Prayer Seek Me, says G3D. When you Pray in the Spirit, I will fill your Sheath with a Flaming Sword. When My Unction comes upon you draw out My Double Edge Sword. My Vengeance will Lay Open the Heart and Soul of Our Enemies."
"For the next 3 weeks you will repeat these steps to find My Prophetic Word. As you speak My Words, they will become Your Words until My Sword has Pierced the Stone."
"At the End of the Third Week you will begin to witness Your Rewards."
It is Written:
"Lord Jesus is revealed from heaven with His mighty Angels, in Flaming Fire taking Vengeance on those Who Do Not Know God, and on those who Do Not Obey the Gospel of our Lord Jesus Christ" (2 Thessalonians 1:7b-8 NKJV).
Prophecy#24-b
Our Lord is saying, "Prepare for the Impossible! As My People Pray and Prophesy ~ Angels from above will exact Heavens Vengeance. Nowhere shall Satan's Ambassadors find a Place that is Safe. As My Warriors Pray and Prophesy the Angelic Host will take the Sword of Your Words and Flay their Hides. Like a Bore Worm drilling into their Minds, they will be catapulted into Unbelievable Madness. Haunting Memories of the Cruelty they have Forged upon the Innocent shall Dig Deep into their Sick Conscience. Their only escape will be to end their Perverted Lives."  
It is Written: 
"You, therefore, Son of Man, Prophesy, and Strike Your Hands together. The Third Time let the Sword do Double Damage. It is the Sword that Slays, the Sword that Slays the Great Men, that enters their Private Chambers. I have set the Point of the Sword Against all their Gates, that the Heart May Melt and many may Stumble." (Ezekiel 21:14-15 NKJV).
Prophecy#24-c
The Holy Spirit shares Spiritual Knowledge. "The Military's greatest concern for a successful recovery of the House and the Land is that My Man, will not derail their plans by saying too much. Therefore, you will not here from him until all the power is Back in his Hands."
"Many of My People have fallen away believing nothing can be done. Saying things like; 'God's Prophets are a Joke.' However, when they see that the Sword has Pierced the Stone, they will know The Impossible has Been Done. The Angels of G3D will expose the sinful deeds of all of them."
It is Written:
"You who hate good and love evil; who strip the skin from My people, and the flesh from their bones; who also eat the flesh of My people, flay their Skin from them, break their bones, and chop them in pieces like meat for the pot, like flesh in the caldron. Then they will Cry to the Lord, but He will not hear them; he will even Hide His face from them at that time, because they have been evil in their deeds" (Micah 3:2-4 NKJV).
Prophecy#24-d
G3D is saying, "Do Not Fear your Enemies for in doing so you give them power to control you. Those who Stole Positions to Rule over you fear they have created a Tide of Fury. And they should Fear You. When they realize they cannot stop the Tide they will recklessly try to Destroy the Nation's Economy. On the other hand, if they see you are afraid of their Threats, they will continue to build their One World Government. Then the Tide will have No Effect and cannot stop Them."
"The Invaders from other Lands are being loosed upon 'We the People' to keep them off balance. While you are defending your families, the Illegal Rulers will usher in militaries from other Lands. To Subdue the Deplorables. What will you do then? You know, you should not sit around waiting to see what happens."
"Who is Committed to Give their Life for My People? Then do all you can to save your Constitution for All Americans. For without the Constitution, you will not have a Life Worth Living."
Prophet Kent Simpson
For more prophetic media groups click here
---